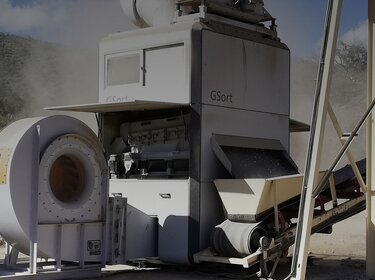 How we inspire our clients
Dry enrichment with the GSort instead of conventional wet preparation
Get your fact sheet now!
Dry enrichment with the GSort instead of conventional wet preparation
The customer
The Mexican company operates in the mining industry and was the industry leader in 2019.
Its main area of activity is the extraction of the mineral Barite (Barium Sulfate BaSO4) in its own mine.
The product "Barite"
Barite is mainly used as an additive for drilling fluids in oil production.
For this application, the density of the mineral is particularly crucial to sufficiently stabilize the boreholes.
The market therefore demands a density of 4.2 t/m³ for Barite. This material property can only be achieved by separating impurities from the mined material and having the Barite mineral in an enriched, as pure as possible form.
The challenge
Traditionally, Barite enrichment is carried out using a wet process. However, this processing method poses the following problems:
High water demand
Process wastewater must be treated afterwards
High operating costs due to water demand and wastewater treatment, especially in water-scarce regions
High energy costs and CO2 emissions due to the necessary drying step of the rock after wet processing
Large plant footprint
Small grain fractions (e.g. grain size 3-25 mm) cannot be efficiently processed with the required density and are usually left as waste in the mines
The solution
With the help of suitable screening technology (sizer) and a separation table (GSort), the labor-intensive wet processing method could be converted into a cost-effective dry process.
The customer benefit
Compared to a comparable wet process, the operating costs of the plant could be reduced by up to 70% through the dry process.
The fine fraction (3-25 mm) could be efficiently enriched with the required material density, resulting in a saleable product from previously non-saleable waste material.
Due to the high operating cost savings and the added value of a saleable fine fraction, the customer was able to achieve a very high return on investment with a payback period of about 100 days.
What requirements must be met for an effective dry separation of minerals?
The minimum difference in absolute density between the heavy fraction and the light fraction should be about 20%.
Additionally, it is necessary to crush the material before density separation to separate the minerals effectively.
The maximum particle size depends on the absolute density and determines the power required for the air blower on the separation table. The minimum particle size depends on the moisture content. The limit is reached when the product loses its "free-flowing" state (minimum particle size can be assumed to be around 0.5 mm and the maximum 80 mm). For sorting trials, a suitable test plant is available in our technical center.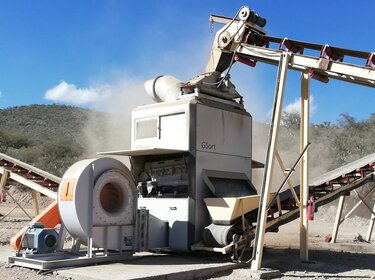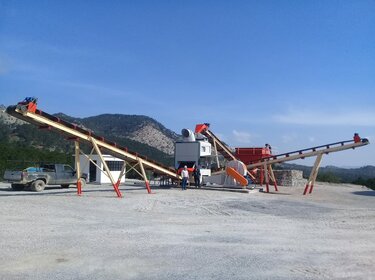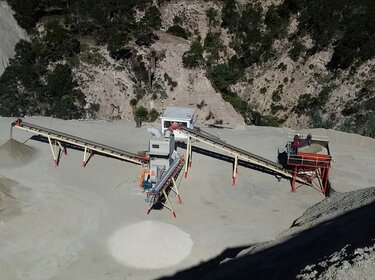 Your individual contact person and downloads
Allgaier Mogensen S.L.U.
C/ Morse 12, Pol. Ind. San Marcos, 28906 Getafe, Madrid, Spain