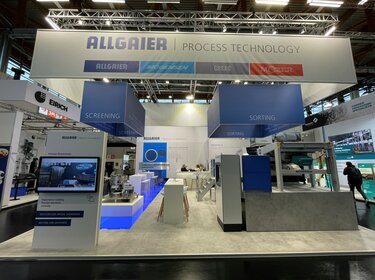 Allgaier Process Technology at POWTECH 2022
27.Sep.2022
Product innovations from the screening, sorting and drying/cooling sectors
Allgaier Process Technology is expanding its portfolio in the areas of screening, sorting and drying/cooling. At Powtech 2022 - in Hall 4A, Booth 325 - Process Technology will be presenting no less than three innovations: the wear-resistant screening cloths, the LeadingEcoSolutions and the new MOGENSEN MSort AW for three product streams.
Wear-resistant screen cloth - with multiple service life
Allgaier presents completely new, more wear-resistant screen cloths which, compared to previous standard cloths, impress with their increased service life with abrasive bulk materials. Matched to the wire thickness and mesh size, the screen cloths are manufactured in a patented process, which significantly increases their wear resistance. A particular advantage here is that, depending on the application, existing screening machines can also be equipped with these robust screen cloths. This innovation increases the plant availability of the users and reduces their downtime and maintenance costs.
LeadingEcoSolutions - energy optimisation of thermal drying processes
With LeadingEcoSolutions, Allgaier Process Technology supports its customers in analysing and significantly improving the energy efficiency and environmental compatibility of drying plants / processes. Potential for energy savings with a short payback period is identified together with the customer in order to lower operating costs and significantly reduce emissions. Many years of expertise as an innovative process engineering system supplier make Allgaier Process Technology a competent partner for modern ecological and efficiency-enhancing solutions for industrial drying processes.
MOGENSEN MSort AW - Reduction of sorting steps
The newly developed MSort three-way system from MOGENSEN for sorting glass cullet offers the possibility of sorting in three or even six product streams with high throughput rates and outstanding sorting purity. This opens up a wide range of applications for rejecting several fractions or contaminants in one sorting step with just one machine. This means, for example, that entire sorting stages can be saved in the plant concept. This in turn has an impact on the concepts and solutions in plant construction with steel construction, space requirements and costs for process engineering. With the MSort AW, MOGENSEN has another product in its portfolio that is durable, compact, of high quality and quickly available, and that sets new standards in the market.
The trade fair presentation is rounded off by the virtual showroom. In an eventful 360° all-round view, the animated industrial hall provides both an overview of the Allgaier Process Technology portfolio and insights into product and application details, so that every sales meeting becomes an experience.
Leading Process Solutions
With their comprehensive know-how, the companies of Allgaier Process Technology are the right contact for all issues relating to bulk solids processing. With the core brands Allgaier, Mogensen, Gosag and Mozer and a worldwide presence in over 40 countries, this division supplies both standardised and customised systems and plants for industrial washing, drying, cooling, screening and sorting of bulk materials of all kinds. Based on the extensive experience from more than 45.000 test series, the business unit currently serves more than 30.000 customers from the bulk solids processing industry worldwide with customised and innovative solutions.
If you have any questions, please contact us by e-mail at info-marketing@allgaier-group.com.