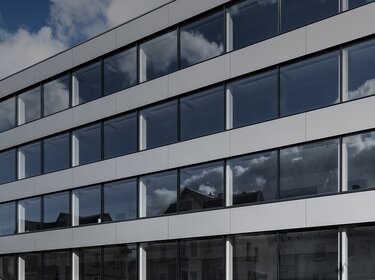 PRIVACY POLICY
We are glad you came to visit and are interested in our website www.allgaier-process-technology.com. Protecting your private data is our top priority. To demonstrate this, we would like to tell you in the following how we use your personal data. The website is a presence of ALLGAIER WERKE GmbH (called Allgaier in the following).
Personal data (often also called personally identifiable information) are those data that can be used to identify one individual person. It does not matter whether this identification comes from a single piece of information. This is seldom the case. However, the more information and data that can be merged, the more accurately the person can be identified. Personal data include, in particular, the name, address, age, email address and the telephone number of a person.
1. COLLECTION, PROCESSING AND STORAGE OF PERSONAL DATA
We collect, process and store your personal data only if this is permitted by law or if you have given your consent.
We obtain these data in two ways: Either you gave us the data or we collect the data through the use of our services.
1.1 DATA YOU GAVE US
As a rule, you may use our website without telling us any personal information directly. For some services, we will ask you for personal information to be able to provide the service involved quickly and in a user friendly manner or even to be able to offer the service at all. Listed below, you can find more detailed information about all the services provided by customers on this website.
1.2 DATA WE OBTAIN THROUGH YOUR USE OF OUR SERVICES
Some data are collected automatically and for technical reasons when you visit our website. These data are stored temporarily in a log file. The following information is collected without any action on your part and stored until deleted automatically:
the page that requested the file
the name of the file
the date and time of the request
the amount of data transferred
the access status (file transferred, file not found, etc.)
a description of the type of web browser used
the IP address assigned to you by your provider if this is necessary for the technical business
client detection (mobile device, desktop PC, etc.)
the user agent of your browser.
We process the listed data for the following purposes:
to ensure a smooth connection to the website
to enhance our website's user experience
to evaluate system security and stability, and
for additional administrative purposes.
The legal basis for processing the data is Art. 6, Para. 1, Page 1, Item f of the GDPR. Our authorized interest follows from the data collection purposes listed above. Under no circumstances do we use the collected data to reveal anything about your person.
In addition, we use cookies and analysis services when our website is visited.
2. USE OF COOKIES AND JAVASCRIPT
To make full use of the navigation functionality, you must activate JavaScript and allow the use of cookies.
2.1 DEFINITION
Cookies are small files automatically created by your browser and stored on your device (laptop, tablet, smart phone, etc.). Cookies do not contain viruses, Trojans or other malware.
Cookies store information about the relationship with the specific device used. This does not mean that we obtain direct knowledge of your identity using cookies. Cookies are used to enhance the use of our presence for you. There are the following different cookie types.
Absolutely necessary cookies are required for operation of a website and are essential for navigating the site and using its functions. These cookies are not permanently stored on your computer or device and are deleted when you close the browser (session cookies).
Statistical, analytical and performance cookies make it possible to collect and count the number of visitors and sources of traffic to measure and improve the performance of the website. They are also used to determine whether problems or errors occur on certain pages, which pages are most popular and how visitors navigate the website. Analytical or performance cookies are deleted after a defined time has elapsed.
Tracking cookies are used to trace the visits and individual activities on websites. They are used to statistically measure and evaluate the use of websites. These cookies are automatically deleted after a defined time has elapsed.
2.2 USE AT ALLGAIER
We currently use the following cookies for the following purposes on our website:
Technically necessary cookies:
Cookies in this category are mandatory for the operation and provision of our website and therefore cannot be disabled.
Name: PHPSESSID
Description: Contains the PHP session ID
Provider: allgaier-process-technology.com
Duration: Session
Name: cookie_consent_type
Description: Contains the information whether the user has allowed marketing cookies or not.
Provider: allgaier-process-technology.com
Duration: 1 year
Marketing Cookies:
We also use cookies for marketing such as measuring and evaluating advertising campaigns. These cookies are only set if you have actively confirmed them in the privacy settings.
Marketing cookies are set firstly by Google Analytics, a web analytics service provided by Google Ireland Limited, Gordon House, Barrow Street, Dublin 4, Ireland ("Google"). More information: https://developers.google.com/analytics/devguides/collection/analyticsjs/cookie-usage
The following cookies are used: _ga ; _gat_UA-16369290-1 ; _gid ;
Marketing cookies are also set by Hubspot, a web analytics service provided by HubSpot, Inc; 25 First Street, Cambridge, MA 02141 USA.
More information:
https://knowledge.hubspot.com/de/reports/what-cookies-does-hubspot-set-in-a-visitor-s-browser
Furthermore, we use Leadfeeder on our website. Leadfeeder identifies the names of the companies visiting our website based on IP addresses. Leadfeeder tracker adds a visitor cookie. This cookie is called _lfa and has a two year expiry date from when it was first set. The cookie is set for the website domain only, Leadfeeder does not use 3rd party cookies.
More information can be found here: https://www.leadfeeder.com/leadfeeder-and-gdpr/
The data processed by cookies are necessary for the cited purposes to protect our authorized interests according to Art. 6, Para. 1, Page 1, Item f of the GDPR.
You have the option, using your browser, to display the cookies present on your computer, to delete the existing cookies or to set up the configuration so that some or even none of the cookies are stored anymore. Keep in mind that some functions may not work or may not work properly if you deactivate the ability to set cookies.
3. INDIVIDUAL SERVICES
The actions listed and used by us are performed based on Art. 6, Para. 1, Page 1, Item a, b or f of the GDPR (based on the authorized interest of the offeror – Item f; on a contractual or quasi-contractual basis – Item b; or with your consent – Item a). By using these actions, we want to ensure that our website is designed based on market demand and that it undergoes continuous optimization. In addition, we use the actions to statistically measure the use of our website and to evaluate our presence for you for the purposes of optimization. These interests are considered authorized in the sense of the cited regulation.
The data processing purposes and data categories can be found in the corresponding tools.
3.1 GOOGLE ANALYTICS
To improve our web presence, we use Google Analytics, a web analysis service of Google Ireland Limited, Gordon House, 4 Barrow St, Dublin, D04 E5W5, Irland ("Google"). Google Analytics uses cookies. These are text files stored on your computer that allow analysis of your website use. The information created by the cookie about your use of this website is usually transmitted to a Google server in the USA and stored there. IP anonymization was activated on this website so that Google truncated the IP address of the users within the member states of the European Union or in other Contracting Parties of the Agreement on the European Economic Area.
Only in exceptional cases will the complete IP address be transmitted to a Google server in the USA and truncated there. On behalf of the operator of this website, Google will use this information to evaluate your use of the website, to compile reports about website activities and to provide additional services connected to website usage and Internet usage for the website operator. The IP address provided by your browser for these Google Analytics activities is not merged by Google with other data.
You may preclude storing cookies by appropriately setting your browser software. We want to make you aware, however, that you may not be able to use all the functions of the website to their full extent in this case. In addition, you can preclude the collection of the data created by the cookie and referring to your usage of the website (including your IP address) by Google and the processing of these data by Google by downloading and installing the browser plugin available at the following link. The current link is
https://tools.google.com/dlpage/gaoptout(link is external)(link is external).
3.2 DOUBLECLICK
DoubleClick by Google is a service provided by Google Ireland Limited, Gordon House, 4 Barrow St, Dublin, D04 E5W5, Irland ("Google"). DoubleClick by Google uses cookies to present you with relevant advertisements. To do this, a pseudonymous identification number (ID) is assigned to your browser to check which advertisements have been shown in your browser and which have been accessed. The cookies do not contain any personal information.
The use of DoubleClick cookies only makes it possible for Google and its partner websites to display advertisements based on previous visits to our website or other websites in the Internet. The information created by the cookies is transmitted by Google for evaluation to a server in the USA and stored there. Google only transmits the data to third parties by law or for contract data processing. Under no circumstances does Google merge your data with other data collected by Google. By using our websites, you consent to the processing of the data collected about you by Google, to the previously described type and method of data processing and for the purpose cited. You may preclude storing cookies appropriately setting your browser software. We want to make you aware, however, that you may not be able to use all the functions of our websites to their full extent in this case. In addition, you can preclude the collection of the data created by the cookies and referring to your usage of the websites by Google and the processing of these data by Google by downloading and installing the browser plugin available at the link (https://www.google.com/settings/ads/onweb/(link is external)(link is external)) under the DoubleClick deactivation extension item.
3.3 YOUTUBE
Allgaier has integrated components of YouTube on this Internet site. YouTube is an Internet video portal that makes it possible for video publishers to publish video clips free of charge and for users to view, evaluate and comment on these clips, also free of charge. YouTube allows the publication of all types of videos. As a result, complete films, television shows, music videos, trailers and even videos produced by users themselves can be accessed on the Internet portal. The operating agency of YouTube is Google Ireland Limited, Gordon House, 4 Barrow St, Dublin, D04 E5W5, Irland.
Every access to one of the individual pages of this Internet site operated by the parties responsible for processing and containing an integrated YouTube component (YouTube video) causes the Internet browser on the information technology system of the accessing person to automatically download the displayed matter of the corresponding YouTube component from YouTube by way of the particular YouTube component. You can get more information about YouTube at www.youtube.com/yt/about/de/(link is external)(link is external). This technical process allows YouTube and Google to learn which specific subpage of our Internet site was visited by the accessing person.
If the accessing person is logged into YouTube at the same time, YouTube detects, when a subpage containing a YouTube video is accessed, just which specific subpage of our Internet site was visited by the accessing person. This information is collected by YouTube and Google and attributed to the corresponding YouTube account of the accessing person.
From the YouTube component, YouTube and Google receive information that the accessing person has visited our Internet site if the accessing person is also logged into YouTube at the time they accessed our Internet site. This happens whether the accessing person has clicked on a YouTube video or not. If such a transfer of this information to YouTube and Google is not desired by the accessing person, the person can preclude this transfer by logging out of their YouTube account prior to accessing our Internet site.
The privacy policies published by YouTube can be found at www.google.de/intl/de/policies/privacy/(link is external)(link is external) and provide information about the collection, processing and usage of personal data by YouTube and Google.
3.4 CONTACT FORM
We offer you comprehensive personal support. If you contact us using the contact form, we ask that you provide us with your title, your last name and your email address so that we can respond to your request quickly and individually. If you want to speak with us by telephone, we also ask that you give us your telephone number. These data are used only to respond to your request. They are not used for a sales talk or for other advertising purposes.
We would be happy to provide you with information about any data stored about you. You can find more information in the Information and Contact sections of this privacy policy.
3.5 SOCIAL MEDIA
We also offer you comprehensive personal support and the option of remaining in contact with us by way of our pages in social media (Facebook, YouTube, Xing, Kununu, LinkedIn) on the basis of Art. 6, Para. 1, Page 1, Item f of the GDPR. These social media services collect personal data themselves, for example, by way of the profile you created there or via social plugins implemented in the websites of third parties.
If you access a website of our Internet presence that contains such a plugin, your browser creates a direct connection to the servers of the companies involved. The content of the plugins is transmitted by these companies directly to your browser and embedded in the website. For this reason, we have no influence on the scope of data that the companies involved collect with the help of these plugins. We just want to tell you what we know about this:
By embedding the plugins, the companies involved collect the information that you have accessed the corresponding page of our Internet presence. If you are logged into one of the companies cited above, the company can attribute the visit to your account there.
If you interact with the plugins, the corresponding information is transferred directly from your browser to the company in question and stored there. If you do not have an account with one of the companies cited above, it is still possible that the company can learn your IP address and store it.
As a result, it may still be possible that the company listed above will record every visitor to our Internet presence based on their IP address and the URL accessed. This is even the case if the visitors do not click on the plugins and if they are not logged into the company with a user account.
You can find the purpose and scope of the data collection and further processing and data usage by these companies as well as your rights in this regard and the setting options for protecting your privacy in the following privacy policies:
3.6 LOGIN AREA (CLOSED USER AREA)
As an Allgaier customer or supplier you are provided with the opportunity of an online access to further information relating to the contractual relationship between you and us. We make this further information available to you in the context of our business relationship. If you wish to gain access to the Login Area, please contact your Allgaier representative. For the purpose of this data provision, we will record your last name, first name, email address. You will then receive personalized login details consisting of username and password, which enable you to use this service. To ensure the integrity of the user area, we will record the username entered and the login date and time during the login process.
3.7 Ordering whitepapers
If you would like detailed information on a product, you can order whitepapers on various products on our website. We collect and process your contact data for the personalized sending of our whitepapers to you by e-mail. In addition, we use your data to inform you regularly about products (events, trade fairs, webinars, etc.) of our group of companies. We collect and process your contact data for the personalized sending of our information to you by e-mail, post or for contacting you by telephone. For this purpose, we require your consent, which you can of course revoke at any time for the future. When sending e-mails, we collect further statistical data in order to continuously improve the e-mail service for our customers.
3.8. HubSpot
Our website uses HubSpot, a third-party company, for marketing automation. HubSpot sets cookies that track a user's interaction with our website. HubSpot also collects information provided by the browser, such as inferred regions, IP addresses, and repeat visits. Users remain anonymous unless the user has provided personally identifiable information by submitting a form.
We currently use HubSpot to conduct webinars and raffles. For this purpose, you can register via a registration form. We collect your contact information (e.g. name, email address, company) to conduct the webinar or raffles and store it in order to invite you to product information, trade fairs, webinars and other actions in the future. You can revoke your consent to this at any time. If you follow an invitation link your use of the newsletter will be evaluated in a statistical and individualized form, in order to continuously improve the newsletter offer and to to provide content tailored specifically to your interests.
For more information about Hubspot cookies and their use, please see the Hubspot privacy policy at https://legal.hubspot.com/privacy-policy.
4. APPLICATION PORTAL
Our Internet presence offers you the opportunity to apply for job offers from the ALLGAIER Group via an application portal.
Via our application portal we collect master data about you and other basic data as well as data about your school and vocational training. Furthermore, you have the possibility to add further attachments to your application, which you can upload to our application portal. All data that you provide us with in the context of the application portal is transmitted to us via a secure, i.e. encrypted connection.
Your data will initially be processed exclusively for the purpose of carrying out the application procedure. If your application is successful, it will become part of your personnel file, be used for the execution and termination of the employment relationship and will be deleted in accordance with the regulations applicable to personnel files. If we are currently unable to offer you employment, we will continue to process your data for up to six months after sending the rejection in order to defend ourselves against any legal claims, in particular on account of an alleged disadvantage in the application procedure.
The legal basis for data processing in the application procedure and for data processing in the employment relationship is Art. 88 DSGVO in conjunction with § 26 paragraph 1, paragraph 8 sentence 2 BDSG.
Your data will not be used by us for automated decision making or profiling nor will it be passed on to third parties.
5. PROCESSING OF BUSINESS PARTNER DATA
ALLGAIER concludes various contracts (e.g. contracts with suppliers, system partners, service companies, repair processing) in order to fulfill its commercial purpose. The collection of data and the processing thereof serves to establish, implement and terminate the contractual relationship. If necessary, the data will be processed within the scope of fulfilling legal obligations of government import and export control.
The primary legal basis for this is Art. 6 para. 1 b) and c) DSGVO. Where necessary, we will also process your data on the basis of Art. 6 para. 1 f) DSGVO in order to protect the legitimate interests of ALLGAIER or third parties (e.g. public authorities). This applies in particular within the Group for the purposes of Group management, internal communication and other administrative purposes, but also for compliance with internal and worldwide compliance standards. In addition, the processing of personal data may be based on your consent in accordance with Art. 6 para. 1a) DSGVO.
5.1 WHICH DATA CATEGORIES DOES ALLGAIER USE?
The categories of personal data processed include in particular your contact data (name of the company, address, first name and surname of a contact person, (mobile) telephone number, e-mail address of the responsible contact person), and, depending on the purpose, also the bank details and, if applicable, the VAT ID number.
We would like to inform you that within the scope of the respective contractual relationship you must provide those personal and company-related data which are necessary for the establishment, execution and termination of the contractual relationship or service promise and their respective fulfillment or which we are legally obliged to collect.
5.2 HOW LONG IS YOUR DATA STORED
We delete your personal data as soon as they are no longer required for the above-mentioned purposes or you have exercised your right to object. After termination of the contractual relationship, your personal data will be stored as long as we are legally obliged to do so. This regularly results from legal obligations to provide evidence and to retain data, which are regulated in the German Commercial Code and the German Fiscal Code, among others. The storage periods thereafter are up to ten years. In addition, personal data may be stored for the time during which claims can be made against us (statutory limitation period of three or up to thirty years).
6. Video Surveillance of the Premises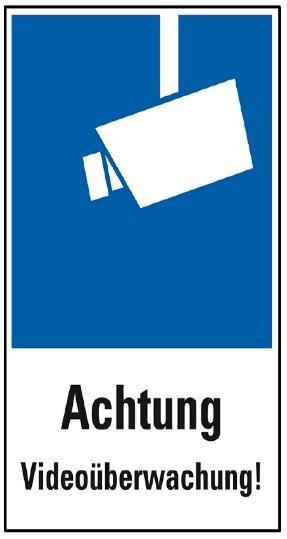 The Allgaier Group maintains equipment for video surveillance on the premises of its group entities. This is necessary to achieve the purposes that are as follows:
Exercise of the property rights;
Protection of property and compliance with safety obligations;
Prevention, reduction and investigation of criminal activities.
The legal basis of the applicable data protection requirements is provided by Art. 6 (1) f) of the GDPR (General Data Protection Regulation). The legitimate interest of the Allgaier Group is manifested in the exercise of property rights as well as in the prevention and investigation of criminal offenses. The recording of image sequences is generally limited to movements in the area being monitored. In the event of purpose-related incidents, these image sequences will be stored for the duration of the proceedings, otherwise for a period of 14 days. Affected persons are made aware of the areas being monitored by the sign shown on the left.
7. YOUR RIGHTS
Of course, you retain control of all personal data that you provide to us when visiting the website and utilizing our services.
In accordance with the applicable law, we are required to explain this to you. Exercising and enforcing these rights is free of charge to you.
7.1 THE RIGHT TO INFORMATION
You have the right to obtain at any time information about your personal data that we store.
7.2 THE RIGHT TO OBJECT
You have the right to revoke at any time your consent regarding data collection. This right takes effect for the future. The data collected before the revocation becomes valid are not affected by it.
7.3 THE RIGHT TO DATA PORTABILITY
You have the right to request transfer of your data in a machine readable format from us to a different agent.
7.4 THE RIGHT TO RECTIFICATION, ERASURE OR RESTRICT PROCESSING
You have the right to rectify, to erase or to restrict the processing of your data.
7.5 THE RIGHT TO COMPLAIN
You have the right to complain to a regulatory agency or responsible agent should you have a reason for complaint. To exercise this right and the two previously mentioned, turn to the contact person listed at the end of this privacy policy.
8. STORAGE DURATION
The data are always deleted once the purpose of their collection has been fulfilled. However, it must be specified in more detail in individual cases when this applies to the specific case. If more precise information is not available, at least the criteria are to be given that make it easier for the user to determine the deletion point in time.
9. DATA SECURITY
During the website visit, we use the extended SSL (Secure Socket Layer) process in conjunction with the highest level of encryption supported by your browser. You can recognize whether an individual page of our Internet presence is being transferred in encrypted mode by the closed image of the key or lock icon in the bottom status bar of your browser.
We also use suitable technical and organizational security measures to protect your data against accidental or intentional manipulation, partial or complete loss or destruction and against the unauthorized access by third parties. Our security measures undergo continuous improvement in accordance with technological development.
10. CHANGES TO THIS PRIVACY POLICY
This privacy policy is valid at this time. It may be necessary to change this privacy policy because of further development to our website and presence or due to amended legal or official regulations. You may access and print out the privacy policy current at any particular time.
11. CONTACT
If you want information, to rectify something, data portability, to delete something, to restrict, or object to, the processing, contact the following at any time regarding your rights to privacy:
Allgaier Werke GmbH
Datenschutzbeauftragter
Ulmer Str. 75
73066 Uhingen
Deutschland
E-Mail: datenschutz@allgaier-group.com(link sends e-mail)
Telephone: 07161 301-0
If you have questions or complaints, you can contact the data protection officer at any time at datenschutz@allgaier-group.com(link sends e-mail) or the responsible regulatory agency, the Baden-Württemberg State Privacy Office, Postfach 10 29 32, 70025 Stuttgart, Germany, poststelle@lfdi.bwl.de(link sends e-mail).
July, 25th 2022