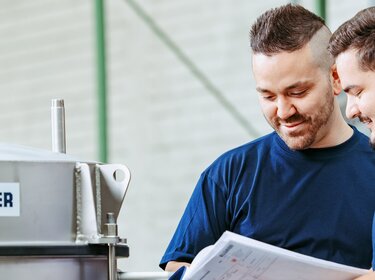 Allgaier Process Technology
Leading Process Solutions
With its comprehensive know-how, the Allgaier Process Technology division is the preferred partner in the field of bulk material processing.
With the core brands Allgaier, Mogensen, Gosag and Mozer and a global presence in over 40 countries, this division supplies both standardized and customized systems and plants for industrial washing, drying, cooling, screening and sorting of bulk materials of all kinds.
In the field of bulk material processing, Allgaier Process Technology can look back on more than 50 years of experience and today supplies a wide range of industries such as waste and recycling, mining, stones and soil, biofuels and pellets, chemicals, pharmaceuticals, foodstuffs & fodder as well as wood and particle boards, ceramics, plastics and metallurgy.
Based on the extensive experience from more than 45,000 test series, the business area currently serves more than 30,000 customers from the processing industry worldwide with customized and innovative solutions.
As a guarantee of success for the smooth running of all processes, the close cooperation between the individual companies within the business area is exemplary and unique. Intercultural competence and the continuous improvement of process and workflow organization ensure that quality can be maintained, production increased and resources conserved.
Your contact person and downloads
Contact
Do you have any questions?