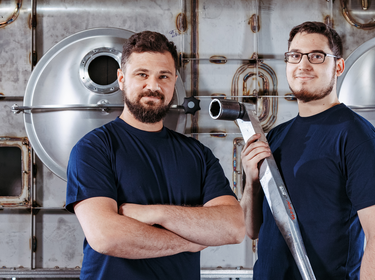 After-Sales-Service
Our service. For you. Worldwide.
As an Allgaier Process Technology customer, you will not only benefit from the technical advantages of high-quality, innovative machines and systems, but also from our comprehensive, expert after-sales service.
Maximum machine and system availability is a crucial factor in ensuring that your day-to-day operations remain cost-effective and successful. That is where our expert service technicians come in. Allgaier after-sales service covers your machines' and systems' entire lifecycle and is designed to maximize their profitability and efficiency, all while reducing the corresponding total cost of ownership.
Installation/field service
As your new machines are installed, we will be right by your side during the startup phase in order to assist with commissioning. Additionally, we will be more than happy to adjust the settings for your machine when your production conditions change.
Spare parts service
A spare parts solution that is custom-tailored to meet your specific needs
Standard spare parts and consumables are quickly available
Genuine high-quality spare parts and consumables
Scheduled inspections, preventive maintenance, and rapid assistance in the event of an emergency
Repairs/on-site service
When a machine fails, we are there to provide fast and professional help in order to minimize downtime.
Upgrade/retrofits
Upgrade to a successful future: Our cost-effective upgrades maximize performance, safety, and added value throughout your system's entire lifecycle so that you can instead focus on your core business.
Individual training
We will be more than happy to pass on our specialized machine and system knowledge to your operating personnel. We can provide your employees with training directly on-site or go over process-relevant and maintenance-relevant topics at our Allgaier Customer Center.
Your individual contact person and downloads
Contact
Frederik Mogensen AB
Spare Parts Sales / Service
Contact
Allgaier Mogensen S.L.U.
Spare Parts Sales / Service
Contact
Allgaier Process Technology, Inc.