LeadingEcoSolutions
Reduce CO2 - Reuse Energy - Reduce Costs
Rising energy prices and CO2 costs, as well as the goal of sustainable production, are the major challenges facing companies worldwide. The optimization of thermal processes offers particularly high potential for reducing energy costs. The amortization periods of possible optimization measures are constantly shortening. With our LeadingEcoSolutions, we support you in significantly improving the energy efficiency and environmental compatibility of drying processes.
Our many years of expertise as an innovative process engineering system supplier make us a competent partner when it comes to advanced, energy-efficient solution concepts for industrial drying processes. Convince yourself of our services for the sustainable optimization of your drying process and contact our experts directly.
Together we determine your potential for energy savings with a view to a high benefit and a short amortization period.

Daniel Mössinger - Machine & Plant Project Planning Drying Technology
Benefit from our expertise and get in touch with us!
Contact
Allgaier Process Technology GmbH
Machine & Plant Project Planning Drying Technology
How you can benefit from our possibilities
Analyze current conditions
Analysis of the existing complete drying process incl. upstream and downstream
Evaluate the dryer design with on-site visit
Determine specific savings potential
Heat recovery
Integration of heat recovery into the existing dryer system utilizing exhaust air
Use of heat exchangers and heat pumps to increase efficiency
Sample calculations to directly compare possible solutions and savings potentials
Process optimization
Increased efficiency of the drying process by making adjustments related to the dryer's design
Consider "evaporative cooling" in the process planning of new plants
Modify and adapt drum internals to optimize heat and mass transfer
Improvement of upstream and downstream process (e.g. mechanical pre-dewatering)
Green Steel
Drying plants manufactured with special "green steel"
The CO2 emissions in the steel production process can be significantly reduced by using "green steel"
Up to ca. 70% of the usual CO2 emissions in the steel production can be saved
The overall CO2 footprint of the production plant is positively influenced
Alternatives
Alternate heating options available, e.g., electric heating, biogas.
Capture and use of waste heat for other processes within the plant
Burner retrofit / modernization
Integration of new energy-saving dryer systems (e.g. TK-D Duo)
Get a free whitepaper for your individual application now!
Promising solutions through individual consulting
PRE-CHECK
Free, no obligation initial consultation
By telephone or virtual meeting
Define scope
Next steps determined
DETAIL-CHECK
On-site evaluation of the relevant process parameters defined in "Step 1"
Generate full report of current status
Compile list of recommendations for process optimization, including sample calculations
ENGINEERING & IMPLEMENTATION
Detailed evaluation of the process data collected under "Step 2"
Specify and select plant components
Coordination with potential third party suppliers
Preparation of process flow diagram / layout / drawings
Verify proposed optimization with pilot test in our lab
Present proposal on the desired rebuild and process improvements
Execution of proposed improvements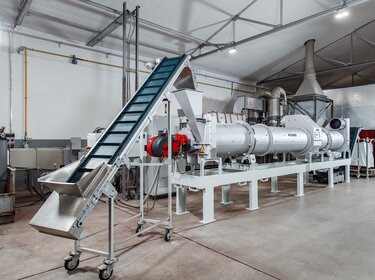 Whitepaper Evaporative Cooling
Fuel savings in thermal drying processes of up to 20% with Evaporative cooling
Get your whitepaper now!
Whitepaper Evaporative Cooling:
In this whitepaper, you will learn how fuel savings of up to 20% can be achieved in thermal drying processes with evaporative cooling. To download the whitepaper, please fill out the contact form below.