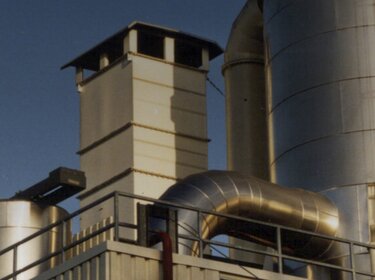 Drying of powders, filter cakes and fibers in seconds
Dispersion Dryer FL-T
Drying of powders, filter cakes and fibers in seconds with the Dispersion Dryer FL-T
Products with very high moisture content presents a major challenge for material drying. The Allgaier Dispersion Dryer FL-T accomplishes this in one pass without product recirculation. This spray dryer is also capable of handling fine and very moist powders that disintegrate during drying and can be conveyed pneumatically. The Allgaier Dispersion Dryer is an ideal solution for industrial applications such as stone and earth, chemicals, plastics, waste/recycling, and foodstuffs, where gentle drying in a matter of seconds is required.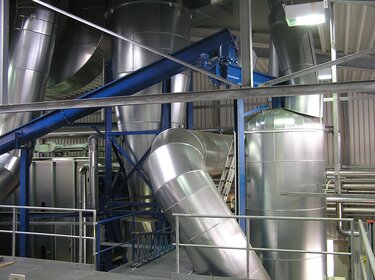 Functionality
The Allgaier Dispersion Dryer FL-T consists of an upright, cylindrical housing divided by a perforated inflow floor. The indirect drying air enters through an inlet below the inflow floor and moves upward in a spiral motion. Moist product is fed through an inlet onto a high-speed centrifugal wheel and dispersed by the air flow. By using various air direction tools, clumpy moist products are efficiently broken up. Intensive circulation of product and drying air enables the best possible heat and mass transfer. Compared to conventional flash dryers, the Allgaier Dispersion Dryer is much more efficient. The dried product is removed from the dryer by downstream cyclones or fine dust filters.
Benefits
High Performance: Direct drying of even very moist and lumpy products without pretreatment.
Gentle Product Treatment: Very gentle drying due to direct air current flow from below.
Multiple Usage: Suitable for use as an economical pre-dryer in multi-stage drying systems.
Compact Design: Efficient, space-saving design optimizes your square foot investment costs.
Maximum Flexibility: All common heating media such as natural gas, saturated steam, hot water, electric or thermal oil as your heat source can be used.
Minimal Process Costs: High water evaporation (efficiency) and heat recovery from dryer exhaust air (fuel cost savings) contribute to overall low operating costs.