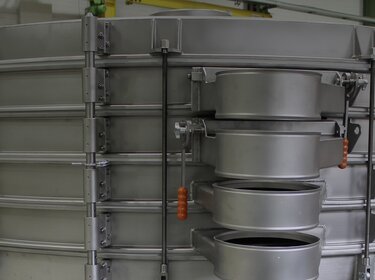 How we inspire our clients
Internationally leading manufacturer of Superabsorbent Polymers (SAP) relies on the world's largest Tumbler Screening Machines
Internationally leading manufacturer of Superabsorbent Polymers (SAP) relies on the world's largest Tumbler Screening Machines
The customer
A leading international manufacturer of SAP (Superabsorbent Polymers).
The challenge
The challenge was to achieve a significant increase in throughput per machine, while at the same time keeping the cut-off size very small.
The conventional sealing systems used to date are subjected to enormous mechanical stresses during screen changes and lose their shape within a short time. The resulting dust problems had to be eliminated.
In addition, the order was to significantly reduce the previous downtimes and maintenance times by using more maintenance-friendly new machines.
The solution
The required higher throughput was achieved with the world's largest Tumbler Screening Machine (TSM tsi294), which has a diameter of 2.90 m.
Furthermore, the TSM tsi294 contains completely through-welded base cylinders and was designed with internal seals as standard. The dust problems could thus be efficiently prevented.
The TSM tsi294 was equipped with the QSS quick clamping system in combination with a pneumatic lifting device. Downtimes and maintenance times could thus be reduced and tools are no longer necessary when changing screens.
The result
With the Tumbler Screening Machine tsi 294, the number of machines was reduced and the efficiency of production operations significantly increased. Investment and operating costs were thus reduced.
The completely welded base cylinders and the internal seals permanently reduce mechanical stress and ambient dust. Furthermore, additional cleaning work is not required.
With the use of the QSS quick clamping system and the pneumatic lifting device, downtimes and maintenance times and thus operating and maintenance costs were significantly reduced.
With outstanding screening quality of up to 95%, the TSM tsi 294 is one of the most reliable and economical solutions for bulk materials of all kinds, offering customers long-term added value.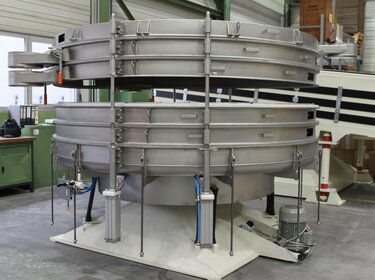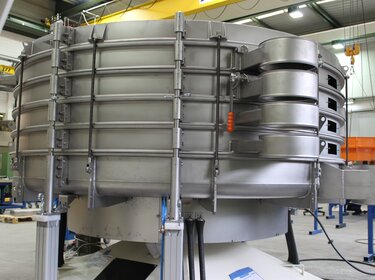 Your individual contact person and downloads
Allgaier Process Technology GmbH
Ulmer Straße 75, 73066 Uhingen, Germany