Tumbler Screening Machines TSM/tsi
Highest screening quality in fine and ultra-fine screening with Tumbler Screening Machines TSM/tsi
Allgaier TSM/tsi tumbler screening machines have been setting standards in the fine and ultra-fine screening of dry bulk materials for years. Precise separation with up to 7 fractions, a variety of screen cleaning devices to match your product, quality built and durable, these are the standards of an Allgaier screening machine.
TSM/tsi tumbler screening machines are used for classification, protective screening and dedusting of bulk materials for products such as stone and earth, chemicals, food, mining, pharmaceuticals, and animal.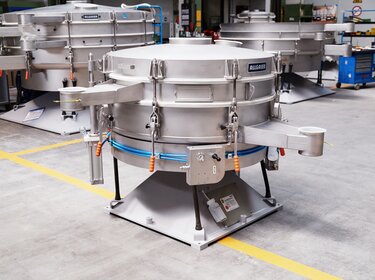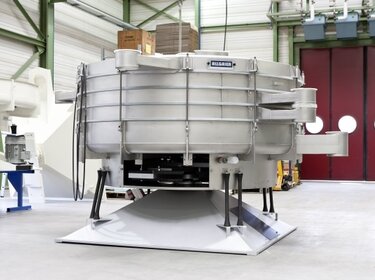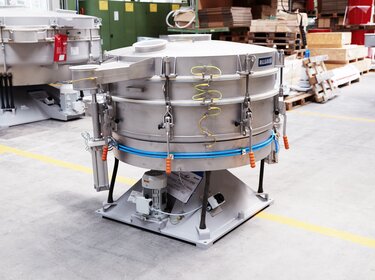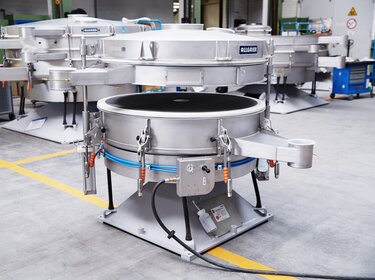 Functionality
A three-dimensional eccentric motion shape with radial and tangential inclination specifications is the heart of the effective screening of a TSM/tsi tumbler screener. During operation, radial inclination ensures that the material moves from the center of the screen to the outside, while the tangential inclination causes the material to move in a circular motion on the screen. The interaction of both forces ensures a spiral movement of the particles on the screen cloth and a long particle residence time on the screen. Optimum separation sharpness of the fractions is achieved and oversized particles effectively separated out on the top deck.
Benefits
Gentle and Efficient Screening: The action of the tumble screener has no negative impact of the screened material structure.
Maximum Efficiency: Long particle retention time; optimum separation efficiency, up to 99% efficient.
High Performance: Effective screen-cleaning enables throughput of up to 40t/h because of reduced blinding/pegging.
Maximum Flexibility: Up to 6 decks; precise separation up to 7 fractions; screen area sizes from 0.28 m2 - 6.40 m2; Allgaier RATEX system allows for custom adjustments to maximize efficiency for your specific product.
Robust Design: Thick-walled bottom pan with internal seals, robust welded part; Gas-tight up to 50 mPa.
Whitepaper Tumbler Screening Machine vs. Vibrating Screening Machine:
In this whitepaper you will learn how to find the right screening machine for your screening task. To download the whitepaper, please fill out the contact form below.