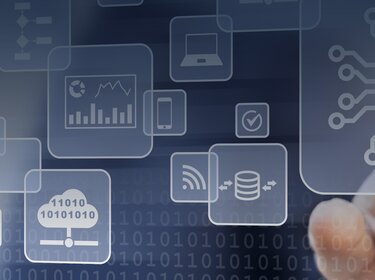 Digital Services
Allgaier goes digital
Digital Services
Allgaier goes digital
Digitization is everywhere. At its core is the networking of industrial infrastructure and all players involved in value creation. This requires a comprehensive realignment of business models and the way in which companies should be aligned in the future. The necessary change processes have a profound impact on existing process and organizational structures as well as the company's central service areas.
Experience Leading Process Solutions virtually
Discover our Virtual Showroom - anytime and anywhere
In our Virtual Showroom, we offer you the opportunity to interactively explore the solutions of our core brands Allgaier, Mogensen, Gosag and Mozer. By means of an exciting 360° all-round view, the Virtual Showroom offers both an overview of our versatile product range and individual details of our individual products and solutions.
Dive into the virtual world of Allgaier Process Technology online and convince yourself. Navigate your way through the virtual setting and obtain further information from the various information panels.
Visit our Virtual Showroom - live on site
The virtual showroom also offers an optimal platform for presenting products that are not haptically available on site to interested parties at trade fairs or at sales locations using Virtual Reality glasses. This makes it possible to virtually inspect even large systems and view processes within the machine. With the help of the VR glasses and mere head movements, an amazing 360° experience in virtual reality emerges.
You want to experience our Virtual Showroom live? Make an appointment with your individual sales contact now or get in touch using the contact below.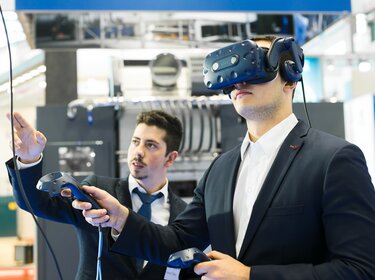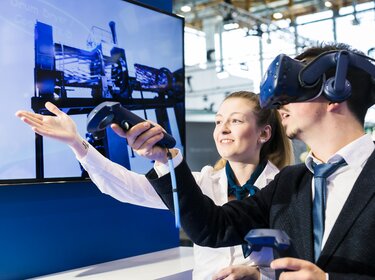 Contact
Allgaier Process Technology GmbH
Manager Sales Management & Business Development