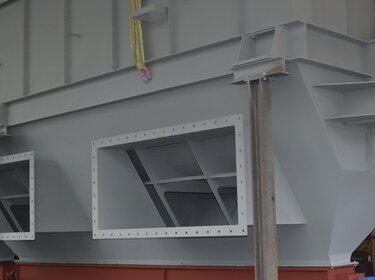 Efficient drying of all types of biomass
Rolling Bed Dryer WB-T
Efficient drying of all types of biomass with the Rolling Bed Dryer WB-T
The growing global interest in the use of biomass as a substitute fuel calls for innovative solutions. The Allgaier Rolling Bed Dryer WB-T combines the advantages of the Drum Dryer and the Fluidized Bed Dryer and is ideally suited for processing all types of biomass.
The innovative design of the machine enables an even and gentle drying at a low temperature level with a particularly long residence time. This is an important success factor for the waste/recycling and biofuel industries, as well as for agriculture. The WB-T also processes large particles of wood chips, green waste, bioresidues and digestate effectively and economically with the use of residual energy.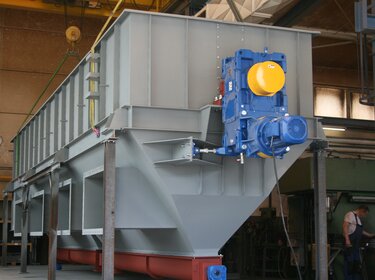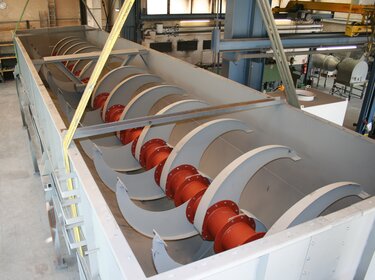 Functionality
At the Rolling Bed Dryer WB-T the product layer lies on a perforated plate and is supplied with drying air from below. This air is continuously circulated by an agitator for product transport and for good mixing of the bulk material. Its high filling ratio ensures that the drying air undergoes numerous deflections until it leaves the bulk again. This leads to a very efficient heat exchange and guarantees that no moist zones are created. An even and optimum drying result is also achieved by avoiding layering between the hot inflow floor and the top of the bulk.
Benefits
High performance: Unproblematic operation also with difficult, large or entangling particles. Good mixing of the product bulk and even residual moisture. Cleaning effect for optimum product quality.
Maximum efficiency: Low temperature capability for effective waste heat recovery.
Minimal process costs: Use of residual energies and therefore low operating costs.
Multiple usage areas: Universal usability for numerous products.
Robust design: Robust construction for high availability and low maintenance costs.
High safety: Explosion proof version is possible.