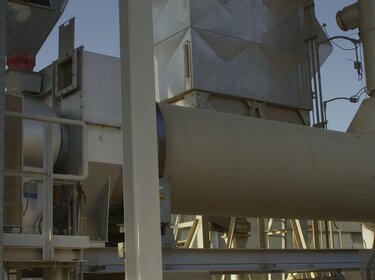 Efficient drying and size reduction of bulk materials
Combined Drying and Shredding TTM
Efficient drying and size reduction of bulk materials with Combined Drying and Shredding TTM
Combined Drying/Shredding TTM drums from Allgaier can be designed with either a single or double pass. This special drum design is a combined system in which the drying and the shredding or deagglomeration of bulk materials take place in a single unit. Therefore, only one drive and one bearing are required in each case. The plant is particularly suitable for processing filter cakes, ceramic raw materials and pre-dewatered sludges.
Functionality
After being fed into the drum, the coarse, lumpy wet material is first pre-dried and then shredded or deagglomerated in the grinding track (consisting of the outer, cylindrical shell and the grinding media rolling inside it). This also exposes the internal moisture of lumps or filter cake plates for drying. After this zone, the crushed bulk material is further dried to the desired residual moisture content.
Benefits
High performance: Combined design eliminates the need for a separate shredding unit.
Maximum efficiency: A very homogeneous drying is made possible.
Maximum flexibility: By equipping the grinding track with different grinding media, high flexibility is possible during comminution.
Compact design: Compact overall dimensions possible (especially with two-pass drums).
More machines in this category