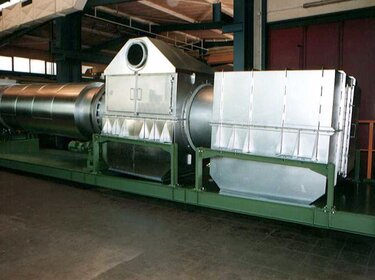 Efficient drying and classification of bulk materials
Combined Drying/Separating TTT
Efficient drying and classification of bulk materials with Combined Drying/Separating TTT
Combined Drying/Separating Drums from Allgaier are of single-drum construction. This innovative drum construction is a combined system in which the drying and classification of bulk materials take place in a single unit. Therefore, only one drive and one bearing are required in each case. The system is suitable in cases where only coarse protective screening (in the cm range) is required. In addition, the system is particularly suitable for processing bulk materials with a very inhomogeneous particle size distribution, such as shredder material in vehicle recycling.
Functionality
In the front section of the drum, the moist bulk material is dried very efficiently in co-current. A classifying zone of the same diameter is located immediately behind the drying zone and is firmly connected to it.
The classifying zone, in the form of a cylindrical screening drum, performs the task of coarse classification into two grain classes (good grain and oversize grain). Typical separation cuts are in the range of a few centimeters. Good grain and oversized grain leave the drum via different outlets.
Benefits
High performance: Combined design eliminates the need for a separate (coarse) screening machine; no separate conveying unit required between the outlet and inlet of the dryer for coarse screening.
Maximum flexibility: High flexibility in grading is possible due to the design of the grading zone with different perforations.
Compact design: Height-optimized installation of drying and coarse screening possible.
More machines in this category