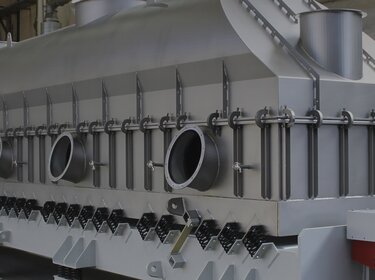 Fluidized Bed Dryer/Cooler
Highly efficient fluidized bed dryers for reliable product refinement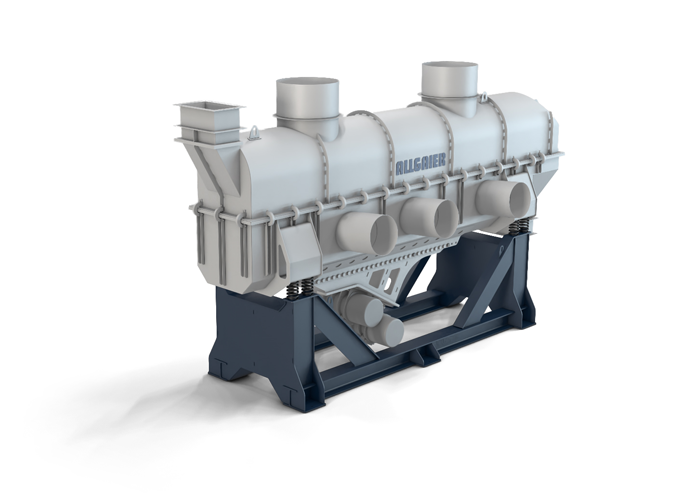 Fluidized bed dryer Functionality
The function of a fluidized bed dryer system basically depends on the respective type or its design and area of application. Generally speaking, the dampened material is efficiently dried and cooled within the system by a supply of hot gas streams (air or inert gas) in different drying/cooling zones, which is specially adapted to the respective requirements. The individual particles are kept in suspension in the system by the inflow of the process gas, so that each individual particle is ideally flowed around. Following drying, the product can optionally be cooled before the dried / cooled product leaves the fluid bed dryer via the product outlet.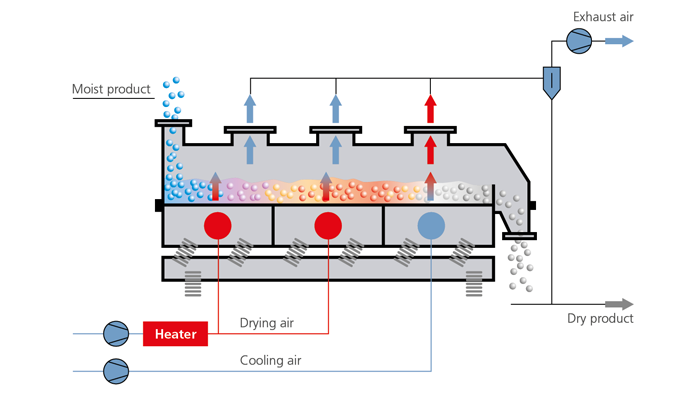 Static fluidized bed dryers
A static fluidized bed dryer does not require a mechanical drive. The conveying and distribution of the respective drying material is achieved by its quasi-hydraulic or easily fluidizable properties as well as large fluid bed heights and fast air velocities. This type of fluid bed technology is mainly used for easily fluidizable products with similar particle size.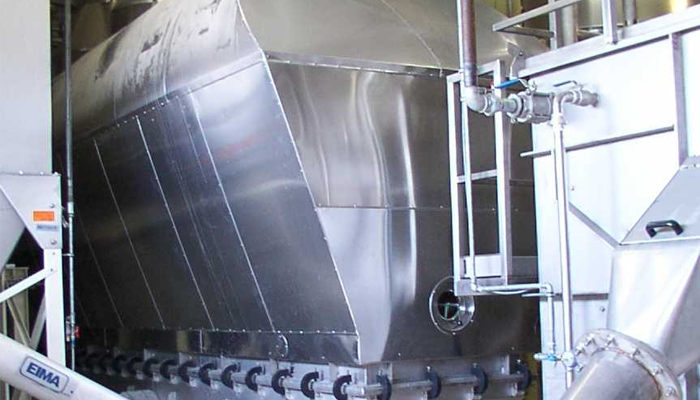 Fluidized Bed Vibration Dryer
Fluidized Bed Vibration Dryer are generally used for higher product moisture levels, as these bulk materials have less good flowability or are difficult to fluidize. Vibration ensures optimum drying of the material passing through the dryer and, in particular, prevents lumping or nesting. Craters and air breakthroughs can be effectively avoided even in very moist and difficult to fluidize materials. Particles of different particle sizes can be dried gently, evenly and securely.
Fluidized bed dryer type cantilever
The drive of a vibratory fluidized bed dryer is often achieved by means of a free-swinging mechanism. Here, the vibration is conducted on the basis of elastic connecting pieces between the unbalance generator and the dryer housing. The drying unit can move freely to the required degree or vibrate flat.
Fluidized bed dryer type two mass oscillator
As an alternative to the free-swinging system, a vibratory fluid bed dryer can be driven or vibrated using the two-mass oscillator principle. Here, the movement does not occur freely, but along a homogeneous or constant direction. In addition, the two-mass system decouples the vibration of the fluid bed dryer almost completely from the substrate. As a result, this system can be used in steel structures without any problems and without endangering the stability of the steel structure through dynamic loading or vibration of the dryer.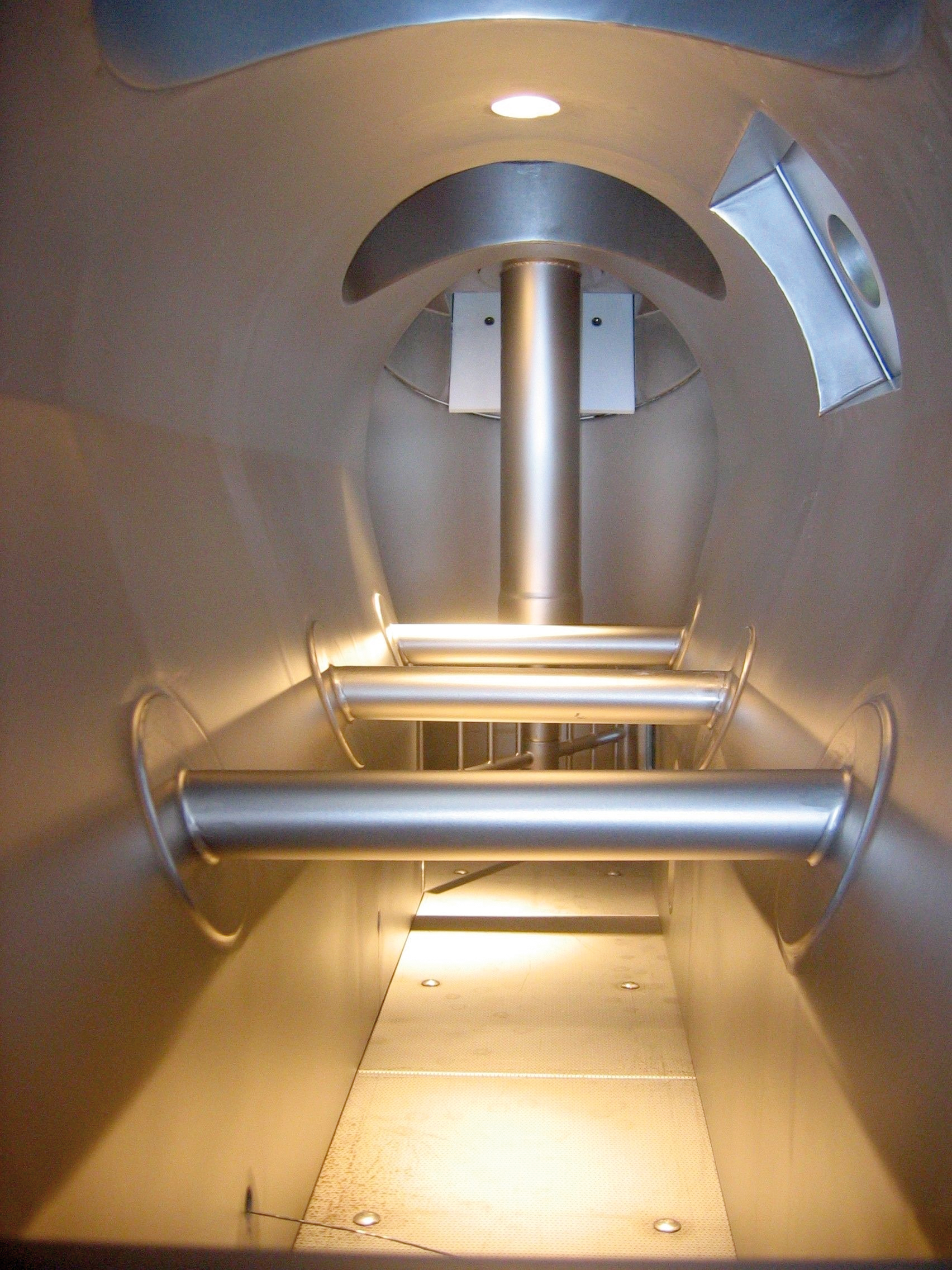 Heating of a fluidized bed dryer system
The heating of the air streams in a fluid bed dryer can be carried out with the help of different processes. Basically, the choice of heating system depends on the design options and the available heating media. Classically, the heating can be done directly via a gas/oil burner or with the help of an electric heating coil. Indirect hot gas generation via steam or thermal oil using heat exchangers is also possible. Thermal energy from other processes (waste heat utilization) can also be put to good use. Heat recovery from the process exhaust air or the use of high-temperature heat pumps is playing an increasingly important role in order to increase the efficiency of the overall system and reduce energy costs.
Combined fluidized bed drying and fluidized bed cooling
The combined processes of drying and cooling in one system can be particularly effective and profitable. Cooling of the dried product can be particularly important if further process steps follow after drying, such as screening, storage or bagging. In addition, the waste heat of the product, which is transported away with the exhaust gas flow during cooling, can be used efficiently to preheat the drying gas.
Energy efficiency of a fluid bed dryer
In Zeiten steigender Energiekosten und strikter Emissionsvorgaben ist es umso wichtiger, den energetisch effizienten Betrieb eines Wirbelschichttrocknersystems zu gewährleisten. Gerade die thermischen Prozesse gilt es zu optimieren, da hier die meiste Energie eingesetzt wird bzw. die höchste Emission erfolgt. Besonders große Potenziale zur Effizienzsteigerung bieten Wirbelschicht Trockner mit eingebauten Heizflächen oder die Integration von Wärmerückgewinnungssystemen, sowie die Verwendung von Hochtemperaturwärmepumpen.
In times of rising energy costs and strict emission requirements, it is all the more important to ensure the energy-efficient operation of a fluidized bed dryer system. The thermal processes in particular must be optimized, since this is where the most energy is used and the highest emissions occur. Fluidized-bed dryers with built-in heating surfaces or the integration of heat recovery systems, as well as the use of high-temperature heat pumps, offer particularly great potential for increasing efficiency.
Together we determine your potential for energy savings with a view to a high benefit and a short amortization period.

Daniel Mössinger - Machine & Plant Project Planning Drying Technology
Possibilities for energy recovery and efficiency increase
Energy recovery and the general increase in efficiency of thermal processes are a must today. Allgaier makes thermal drying processes Eco! With this in mind, the LeadingEcoSolutions program focuses on the core concerns of "Reduce CO2", "Reuse Energy" and "Reduce Costs". Based on many years of experience as a supplier of innovative drying systems, Allgaier offers advanced, energy-efficient solution concepts for industrial plants in this segment. In close cooperation with customers, all potential for energy savings is uncovered - always with a view to maximum benefit and a short payback period.
Advantages Fluidized Bed Dryer
Effective drying that is gentle on the product due to optimum flow around the particles.


Individually adjustable inflow zones for drying and cooling to ensure an optimum fluidization condition.

The vibration support enables even difficult-to-fluidize products with a wide particle size distribution or sticky characteristics to be dried effectively. In addition, the vibration support prevents cratering within the product layer.

Compact designs possible with maximum performance.

Wide range of applications: For example, for drying plastic granules, animal feed and sugar or expanding foam granules as well as heating urea and cooling cocoa or salts.

Energy-efficient processes through a small-scale system tailored to the respective application area, optimized heat generation and heat recovery.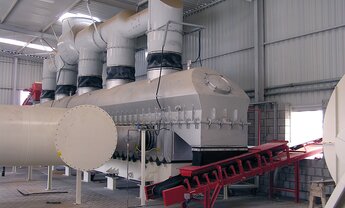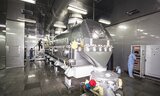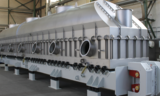 Limits of fluidized bed technology
The limits of fluid bed technology are indeed very broad. There is hardly a moisture product among bulk materials or granulates, powders or other granular, flowable materials that cannot be processed accordingly. Allgaier offers its customers drying systems that can be adapted to a wide variety of products. A specific system is available for all industries in which the processes in question play a role - from the processing industry to food-producing or pharmaceutical plants. By using equipment options, such as an agitator in the product feed area or back-mixing possibilities to influence the product properties of the dampening solution, the application limits of fluid bed technology can be pushed further.
FAQ - Frequently asked questions
What is a fluidized bed dryer?
A fluidized bed dryer is a system in which bulk materials or granulates, powders and granules, powders and other granular, free-flowing moisture products are kept in suspension by a hot gas stream by a hot gas stream and effectively dried in the process. Often, fluid bed drying is combined with a fluid bed cooling within the same apparatus.
How does a fluidized bed dryer work?
A wet product is fed into the fluid bed dryer, where it is efficiently dried and cooled by a drying/cooling zone specially designed to meet specific requirements. This drying technology can be designed for continuous operation or for batch productions (batch operation).
When are fluidized bed dryers used?
Fluidized bed dryers have a wide range of applications. Typical applications are the processing and drying of crystalline products, granulates and powders for the stone and earth, chemical, mining, recycling, pharmaceutical and food industries.
What temperatures does a fluid bed dryer operate at?
The process temperature depends individually on the respective moisture product. Depending on the respective fluid bed technology (static fluid bed dryer, free oscillator, two-mass oscillator), high supply air temperatures of up to 600°C can be realized.