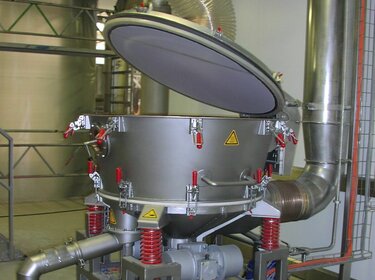 Efficient drying of difficult solids
Vibration Batch Dryer WS-R-V-CT
Efficient drying of difficult solids with the Vibration Batch Dryer WS-R-V-CT
The Allgaier Vibration Batch Dryers WS-R-V-CT is the optimal solution for the treatment of solids that are difficult to handle. These include, for example, products that stick strongly at the beginning, are difficult to fluidize, have an irregular particle shape, require long drying times or change their properties during drying.
Due to the easy cleaning, the WS-R-V-CT meets the high demands of the pharmaceutical and food industries in addition to the chemical industry. It is particularly suitable for drying small and medium product quantities such as gelatine, alginate capsules, nuts as well as cellulose fibers.
Functionality
The solids to be treated are fluidized by an upward air flow. This is supported by the vibration of the dryer and by an agitator installed in the drying chamber. This prevents sticking and incrustation of the product in the apparatus.
Benefits
Soft product treatment: Suitable for products with special properties; no sticking and incrustation of the products in the apparatus.
Simple handling: Automatic and pneumatic emptying. Easy opening of the dryer hood for filling, sampling, inspection and cleaning.
Multiple usage areas: Pressure shock resistant design possible.
Small footprint: The machine has a small floor space requirement.
More machines in this category