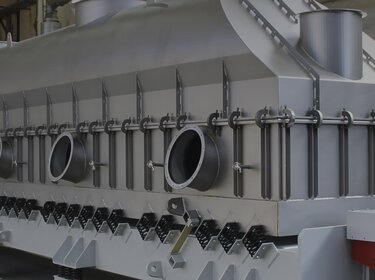 Powerful combination for product finishing
Fluidized Bed Vibration Dryer/Cooler WS-V-T/K
Fluidized Bed Vibration Dryer/Cooler WS-V-T/K as a powerful combination for product finishing
The Allgaier Fluidized Bed Vibration Dryer/COOLER WS-V-T/K combines the advantages of vibratory and fluid bed technology, allowing even very moist product layers that are difficult to fluidize to be processed evenly and gently.
With its integrated cooling function, it adapts optimally to the specific properties of the products to be processed and the process control. This convective dryer is particularly suitable for processing crystalline products, granulates as well as dusts and powders and is mainly used in the stone and earth, chemical, mining, waste/recycling and food industries.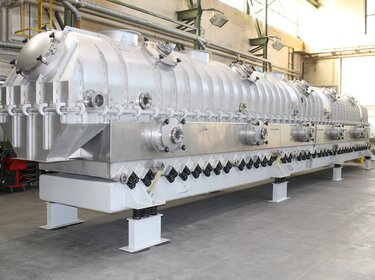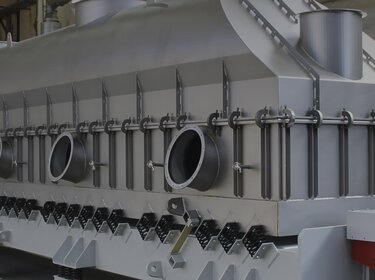 Functionality
The solids to be treated are fluidized by an upward air flow. This creates optimum drying, reaction and handling conditions.
The air cushions between the particles prevent abrasion and agglomeration.
The fluidized bed is supported by the vibration of the dryer. As a result, cratering and air breakthroughs are effectively avoided even in very moist product layers that are difficult to fluidize. Particles of different sizes are dried evenly and securely.
Benefits
High performance: Even at very low dry material temperatures; Problem-free treatment of bulk materials with high moisture content; tendency to agglomeration as well as a wide particle spectrum.
Soft product treatment: Gentle handling of sensitive products. Integrated agitation zone for products that tend to cake.
Robust design: Two-mass resonance system as vibration drive with only low dynamic forces on the substrate.
Simple maintenance: Low maintenance and cleaning requirements.
Simple handling: Automatic and complete emptying.
Maximum flexibility: Optionally with integrated cooling section.
Minimal process costs: Low operating costs; heat is recovered from the dryer exhaust air and used in the further process.
More machines in this category