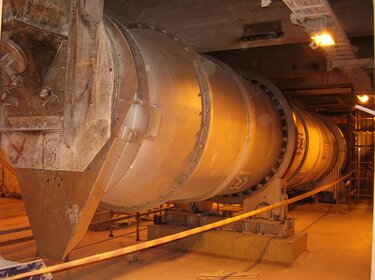 Cooling of hot solids with effective heat recovery
Indirect Cooling Drums
Cooling of hot solids with effective heat recovery with Indirect Cooling Drums
Indirect Cooling Drums from Allgaier are used for cooling hot and very hot solids from calcining drums and rotary kilns and enable very effective recovery of thermal energy. Many bulk materials such as powdery or granular products must be cooled before further processing. In addition to direct or convective cooling by means of air, indirect cooling offers a very effective alternative due to the possible recovery of thermal energy. The system is particularly suitable for cooling titanium dioxide (type RKT) and calcined gypsum (type KTR).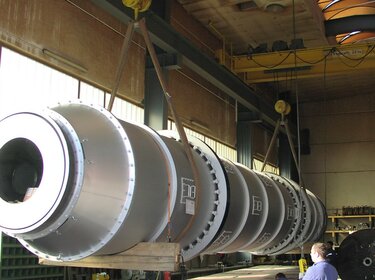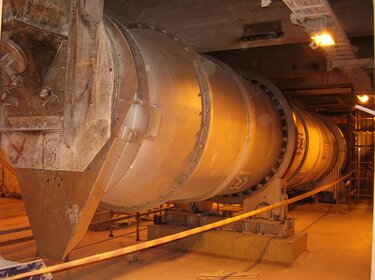 Functionality
With indirect cooling, the hot solid is moved along one side of a separating apparatus wall, while the air cools the wall from the other side and is thus not in direct contact with the bulk material.
Due to the high temperature differences, a very effective heat transfer occurs from the hot product through the walls of the cooling tubes into the cooling air.
Benefits
High efficiency: As a result of the heat recovery from the hot solid, there is a short amortization period for the investment.
Minimal process costs: Savings in primary energy and fuel through use of the preheated, dust-free and dry cooler exhaust air; consequently, filter systems for post-treatment of the warm cooler exhaust air are not required.
Robust design: Robust and durable design.
Environmentally friendly: Heat recovery makes a significant contribution to sustainable management and environmental protection; natural resources are conserved.
More machines in this category