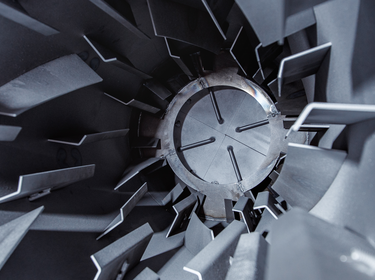 Cooling
Industrial cooling of raw materials
Industrial cooling of raw materials
In the industrial processing of raw materials, in many cases the dried or heated product must be cooled before further processing.
Allgaier cooling systems and plants are used in the processing industry for construction and mineral materials, in the mining, stone and soil, plastics and ceramics sectors, as well as for waste/recycling, bio fuels/pellets, in the foodstuff and the chemical and pharmaceutical industries.
The hot products can be cooled convectively with air (or other process gases, e.g. nitrogen). In this case, the cooling air flows around or through the products in direct contact. Indirect cooling offers an alternative to convective product cooling with air. Here, the hot solid is moved along one side of a separating apparatus wall, while the cooling medium (air or water) cools the wall from the other side.
The cooling medium heated by product cooling can be coupled into upstream or downstream processes for direct heat recovery, which is why these indirect coolers make a significant contribution to sustainable management and environmental protection. Natural resources are conserved and production costs are reduced through energy savings.
With its plants, Allgaier offers comprehensive knowledge in the competence cooling. The wide range of plants includes rotary kiln coolers, Fluidized Bed Coolers, Dispersion Coolers as well as their Combined Dryer-Cooler Systems.