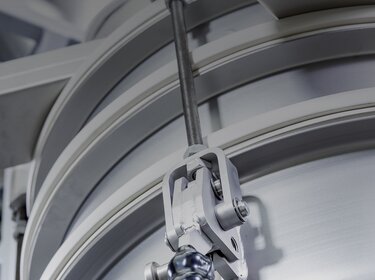 Vibration Screening Machine
Classification, protective screening, and control screening with vibrating screening machines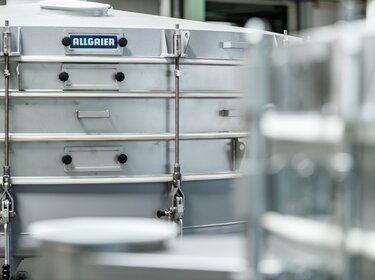 Tumbler Screening Machine or Vibration Screening Machine?
The perfect machine for every screening task
GET YOUR WHITEPAPER NOW!
Vibration Screening Machine
Allgaier vibrating screening systems enable the economical processing of almost all bulk materials in the fine, medium, and coarse range, as well as wet screening. By easily adjusting the vibration motion, the screening quality and throughput can be precisely tailored to specific requirements. In certain model configurations, the screens can also meet GMP and FDA criteria, making them suitable for processing high-quality powders, pellets, and granules for applications in the pharmaceutical, food, and fine chemical industries.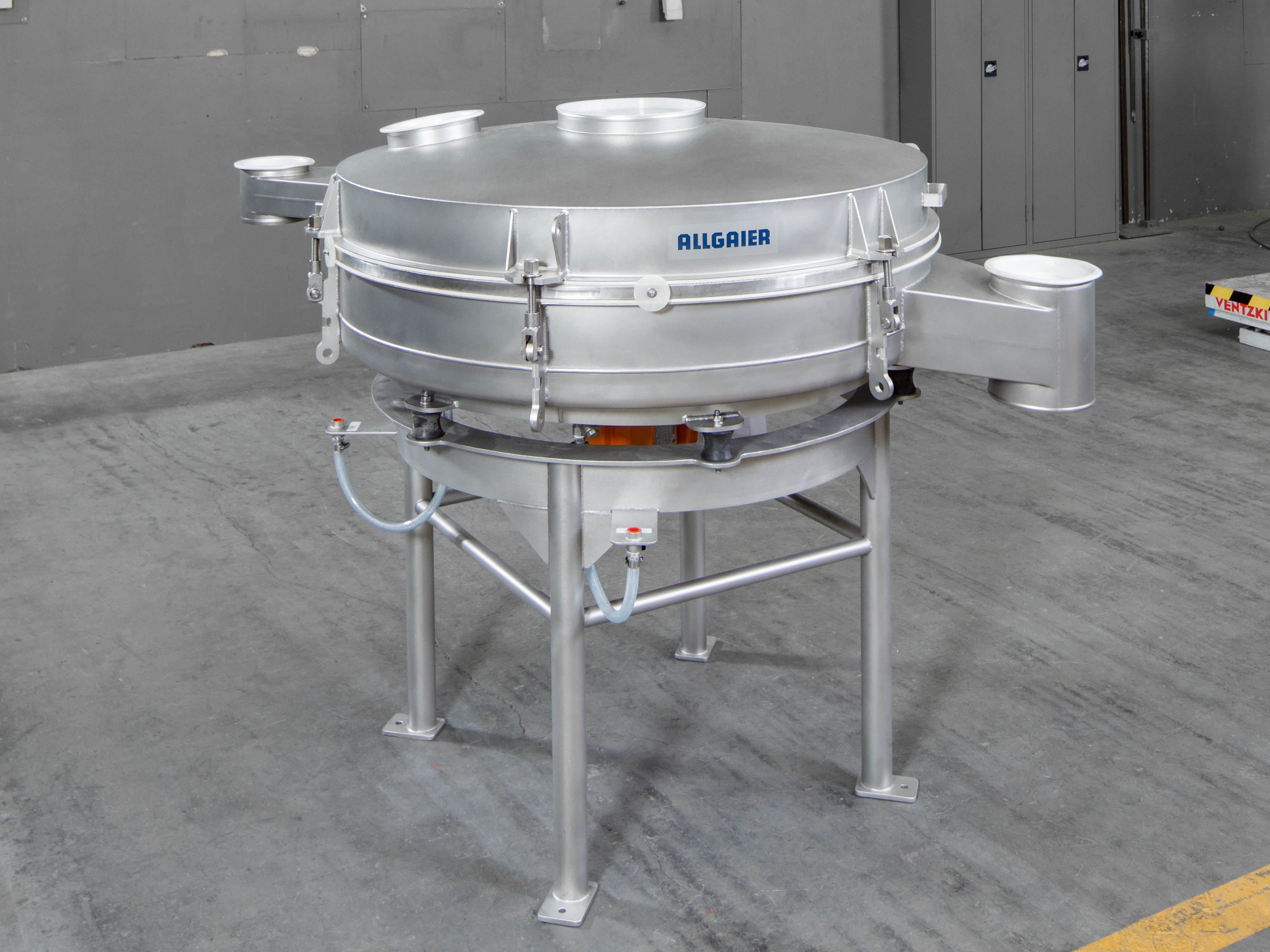 Functional principle of a vibrating screen
The Allgaier vibrating screens are driven by a powerful vibration motor that generates an individually adjustable horizontal and circular tumbling motion. This causes the bulk material to move in a spiral pattern from the inside to the outside, resulting in efficient screening.
The vibration motion can be easily and quickly adjusted to the specific requirements of the material to achieve optimal screening quality and throughput performance. The vibration intensity and frequency can be varied to achieve optimal particle fractionation.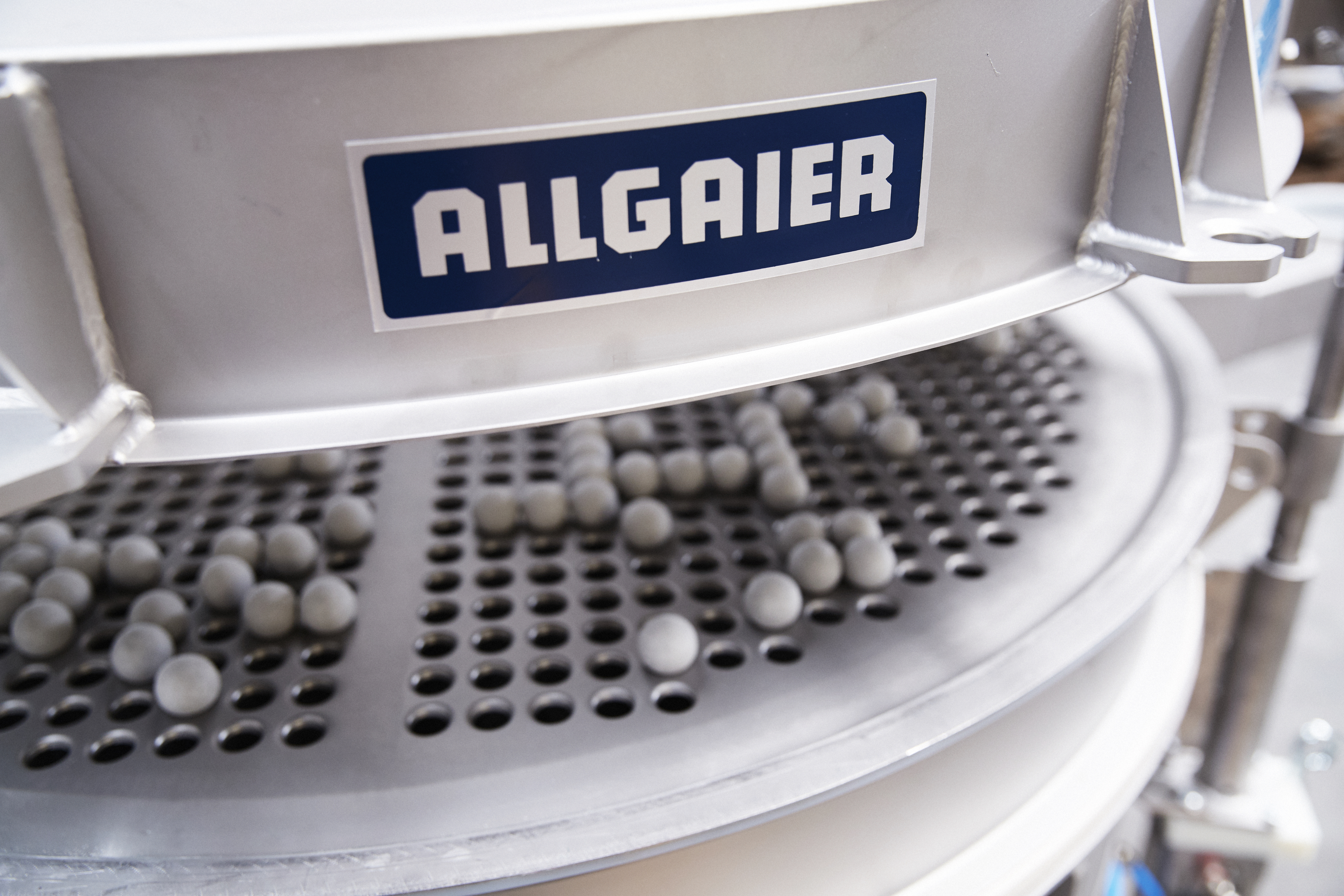 Applications of Allgaier vibration screening technology
The applications of vibrating screening machines are extremely versatile in mechanical process engineering and cover a wide range of uses.
They can be used for both dry and wet screening to separate different particles. Classification can be performed in up to 4 fractions, depending on the requirements.
Vibrating screening machines are also ideal for protective and control screening to remove unwanted particles or impurities and ensure the quality of the end product.
Another application is the dedusting of products to keep the ambient air clean and improve the working environment.
In addition, vibrating screening systems can be used for dewatering bulk materials. This is particularly important in the food and beverage industry, where effective dewatering helps improve the shelf life and quality of food or additives.
Thanks to these wide-ranging applications, vibrating screens are used in many industries, including the chemical, pharmaceutical, food and beverage, mining, and construction industries.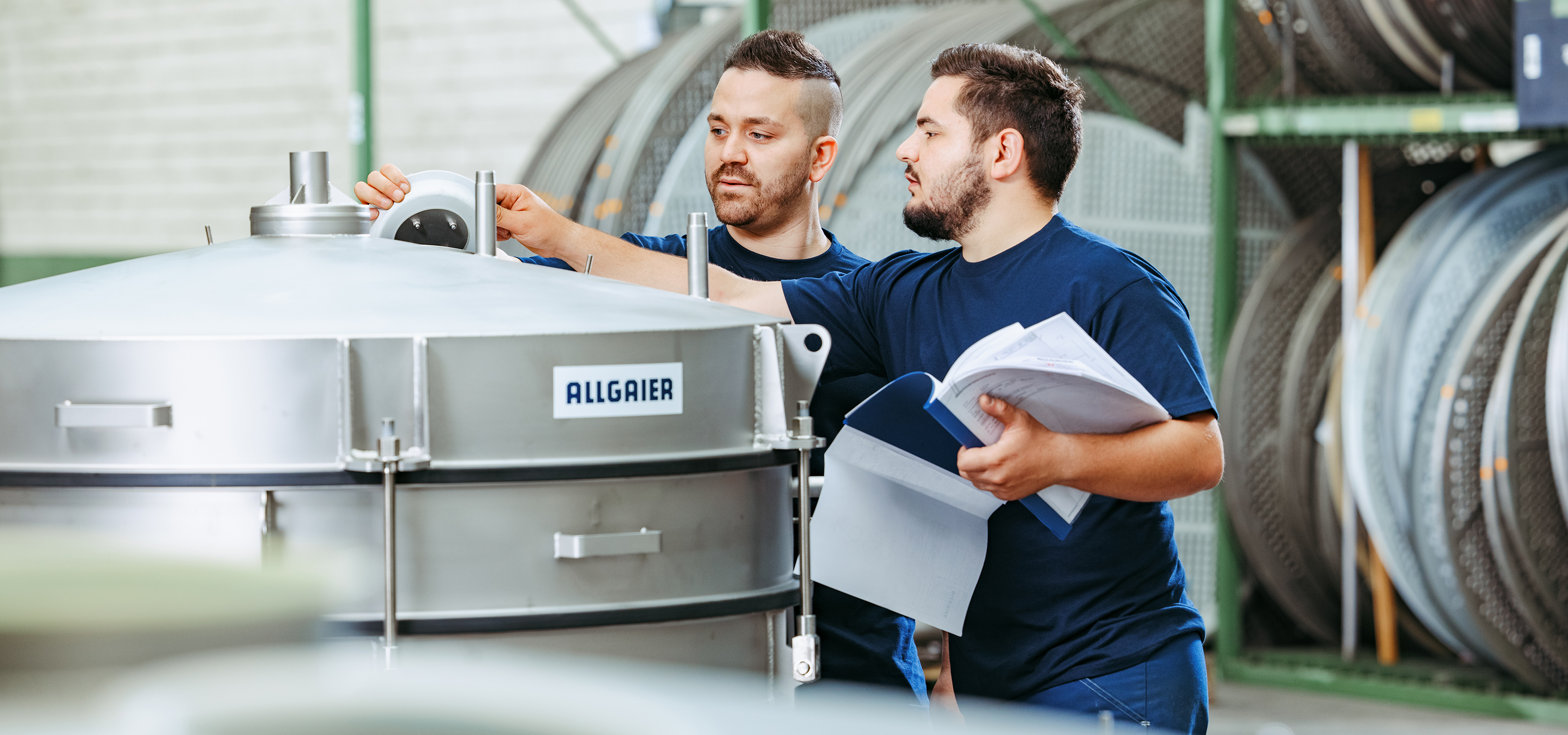 Vibrating screening machines for the protective screening of liquids
For the protective screening of viscous liquids such as chocolate or cocoa mass, heated VRS vibrating circular screening machines from Allgaier are used. Heating is achieved through hot water circulating in a double-jacketed main cylinder of the vibrating screen. Continuous heating ensures that the screening machine maintains the desired temperature, preventing the solidification of liquids and ensuring smooth production processes and high system availability.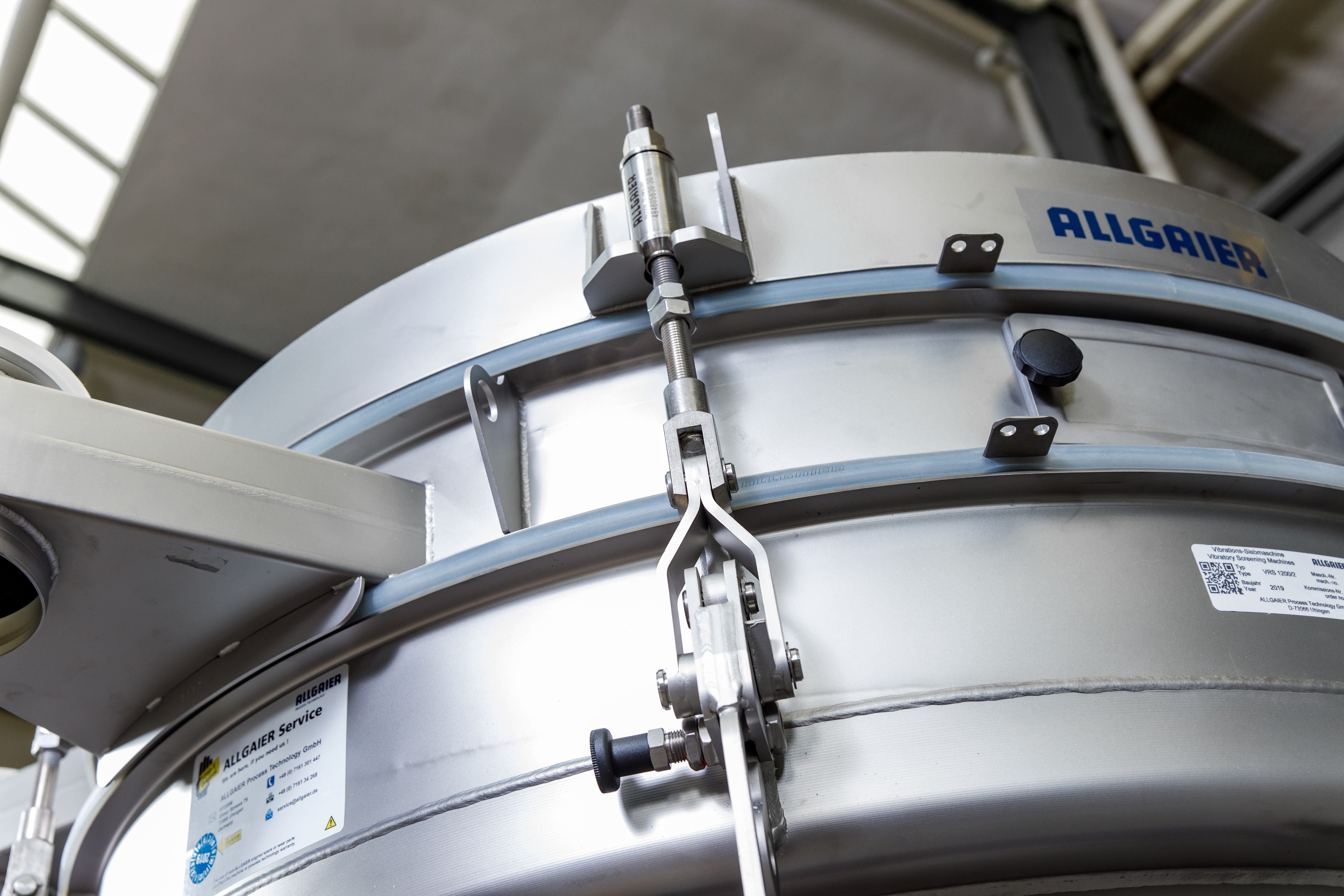 Advantages of Allgaier vibrating screens.
The modular design of the vibrating screen machines allows for a wide range of customized configurations that can be flexibly adapted to the respective product.
Due to years of experience and the universal adjustability of the screens, very high separation sharpness can be achieved.

The machines can be equipped with either ball knocking, ultrasonic, or brush cleaning.

The new wear-resistant screen meshes ensure a long service life when processing highly abrasive products.

The innovative QSS quick-release system can be installed in all machines, enabling fast screen replacement.

A wide selection of sealing systems ensures dust-tight operation.

Foldable hoods are available for 1-deck machines.

The vibrating screens can also be supplied with suitable ATEX certification.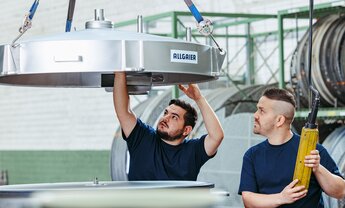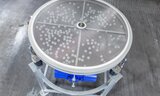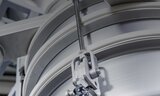 FAQ - Frequently Asked Questions

What is a vibrating screen machine?
A vibrating screen machine is a screening technology that allows for the classification of solid materials based on their size and shape. As the name suggests, this machine operates by applying vibrations to the screen to loosen and fractionate the material.
A typical vibrating screen machine consists of a frame that holds the screen, a vibrating motor that generates vibrations, an inlet hopper that feeds the material into the machine, and an outlet that discharges the separated material. The material is fed into the inlet hopper, which directs it onto the screen where it is set in motion by the vibrations. During the screening process, smaller particles pass through the screen, while larger particles are retained on the screen. The different material fractions are then discharged through the outlet.

When are vibrating screen machines used?
Vibrating screen machines are used in a variety of applications where it is necessary to sort or classify materials based on their size and shape.
Here are some examples:
In the food and beverage industry, they are often used to classify food products such as flour, sugar, spices, and nuts to remove impurities and unwanted particles.

In the chemical and pharmaceutical industry, they are frequently used to sort powders and granules, removing impurities or sorting materials into different sizes.

In the mining and construction industry, vibrating screen machines are employed to sort and classify stones, sand, and other materials based on their size and shape.

Vibrating screen machines are also commonly used in the recycling industry to classify various materials such as plastics, paper, and metals.

How big is a vibrating screen machine?
There is a wide range of options available on the market, with vibrating screen machines being available in various sizes. The available sizes can vary from smaller machines with a diameter of around 600 mm to larger machines with a diameter of up to 1,400 mm. Depending on the specific application and required capacity, suitable sizes can be chosen to meet the desired needs.

What are the acquisition costs of vibrating screen machines?
The price of a vibrating screen machine depends on various factors, including the size, capacity, performance, and technical specifications of the machine, as well as the manufacturer and supplier.
Smaller equipment for laboratory applications can range from a few hundred to a few thousand euros, while larger industrial-scale machines can cost tens of thousands of euros or more. The price difference also depends on whether it is a standard machine or if customizations are required.It's important to note that pricing can vary significantly based on market conditions, supplier pricing policies, and any additional features or services included with the machine. It's advisable to contact specific manufacturers or suppliers to get accurate and up-to-date pricing information for the desired vibrating screen machine.
Other machines in this category