Vibration Screening Machines VRS
Classification, protective and control screening with Vibration Screening Machines VRS
The Allgaier Vibration Screening Machines VRS is suitable for the economical processing of almost all bulk materials in the fine, medium and coarse grain range as well as for wet screening. The VRS is also used in the pharmaceutical, food and fine chemical industries. For this purpose, Allgaier manufactures the Vibratory Screening Machine according to GMP and FDA criteria for the preparation of high-quality powders, pellets and granulates. By simply adjusting the vibratory movement, the screening quality and throughput rate can be precisely set to the respective requirements.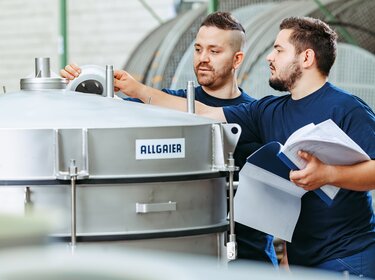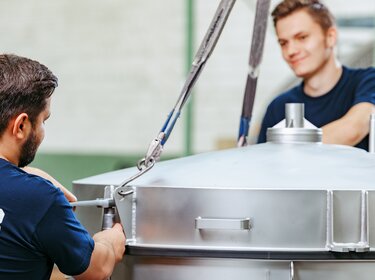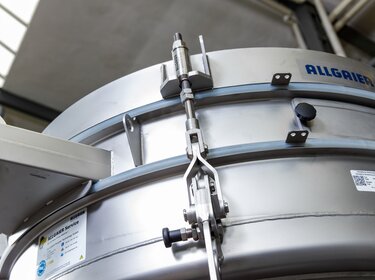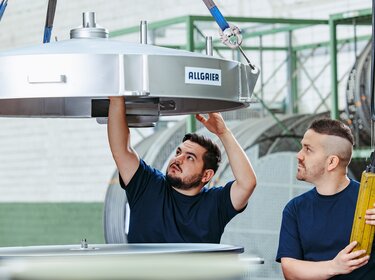 Functionality
The drive is provided by a vibration motor which, by suitable adjustment of the centrifugal discs, generates a horizontal and circular wobbling motion. This causes the screenings to move in a spiral from the inside to the outside. By simply adjusting the oscillating motion, the screening quality and throughput rate can be adjusted to your individual requirements.
Benefits
Multiple usage areas: With the VRS, dry and wet screening is possible, protective and control screening, as well as dedusting and dewatering can be carried out.
Maximum flexibility: Up to 3 decks and 4 fractions can be set. Screening area sizes from 0.28 m2 - 1.59 m2 are applicable. In addition, multi-deck machines (tumbler or vibratory screening machines) are possible.
Robust design: With internal seals, gas-tight up to 50 mPa.
Simple documentation: Complete pharmaceutical documentation is ensured.
More machines in this category
Whitepaper Tumbler Screening Machine vs. Vibrating Screening Machine:
In this whitepaper you will learn how to find the right screening machine for your screening task. To download the whitepaper, please fill out the contact form below.