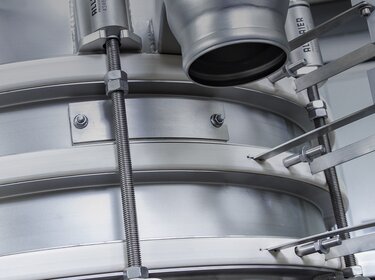 Tumbler Screening Machine
Highest screening quality in fine and ultra-fine sieving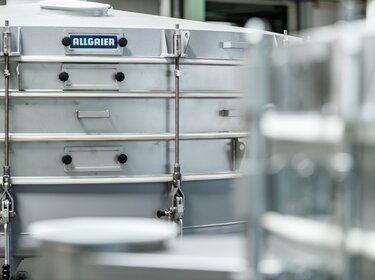 Tumbler Screening Machine or Vibration Screening Machine?
The perfect machine for any screening task
GET WHITEPAPER NOW!
Tumbler screening machine
For years, Allgaier tumbler screening machines have been setting the standards in fine and ultra-fine screening of dry bulk materials. Precise separation steps with up to seven fractions, as well as the wide range of available sieve cleaning options, characterize the quality and durability of these systems.
Tumbler screening machines are used for classification, protective screening, and dust removal of bulk materials in nearly all industries, including construction materials, chemicals, mining, pharmaceuticals, animal feed, and food processing.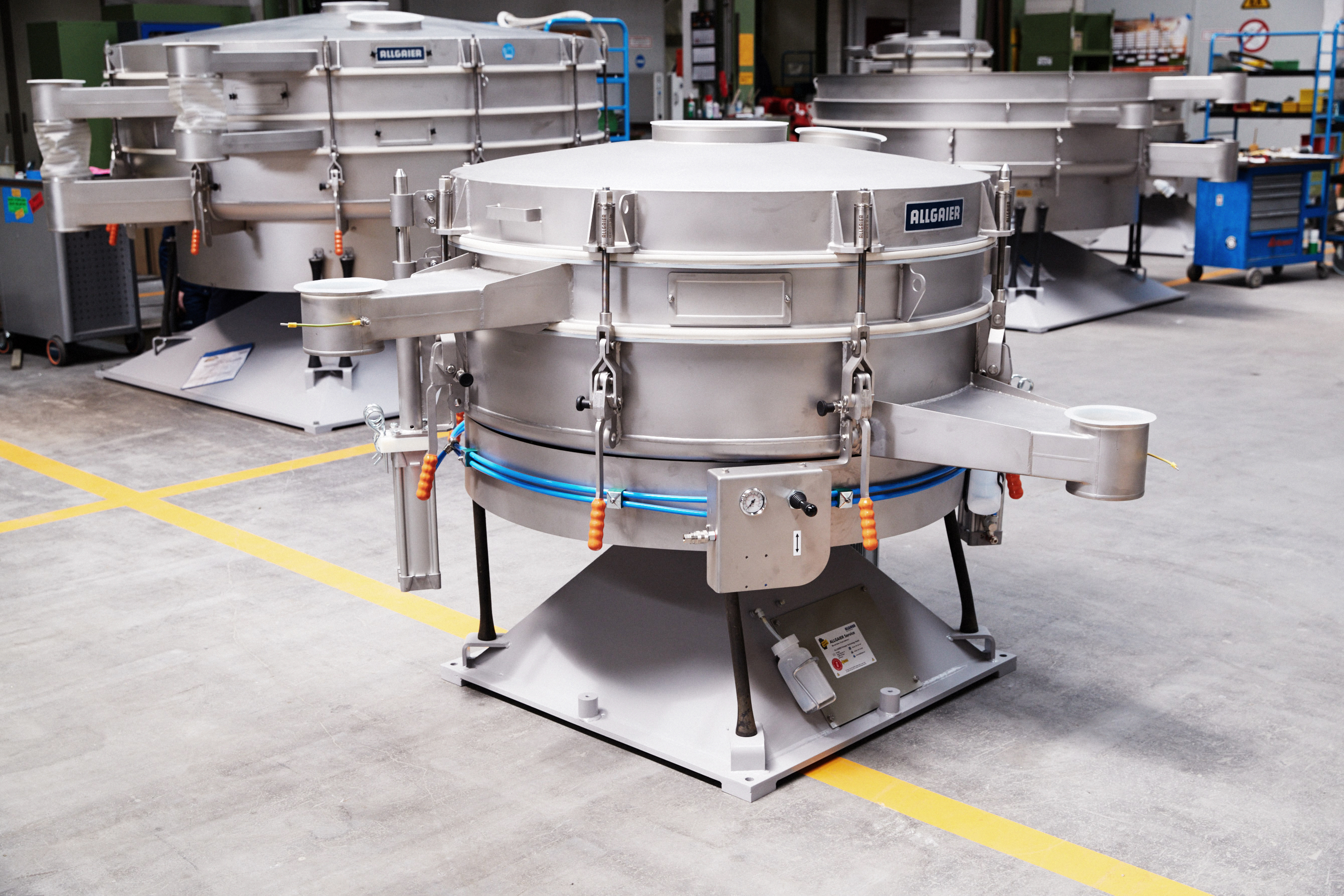 Functional principle of a tumbler screening machine
The movement of the machine is generated by an eccentric motion consisting of radial and tangential inclination. The radial inclination causes the material to move from the center of the screen surface towards the outer edges, while the tangential inclination creates a circular motion of the material on the control sieve. The combined effect of these forces results in a spiral motion of the particles on the screen surface.
This motion has the advantage of allowing the material to stay on the sieve for a longer period of time before falling through the screen surface. As a result, better separation sharpness of the sieve fractions is achieved. At the same time, the amount of undesirable product fraction is minimized as the material is better separated due to the spiral motion.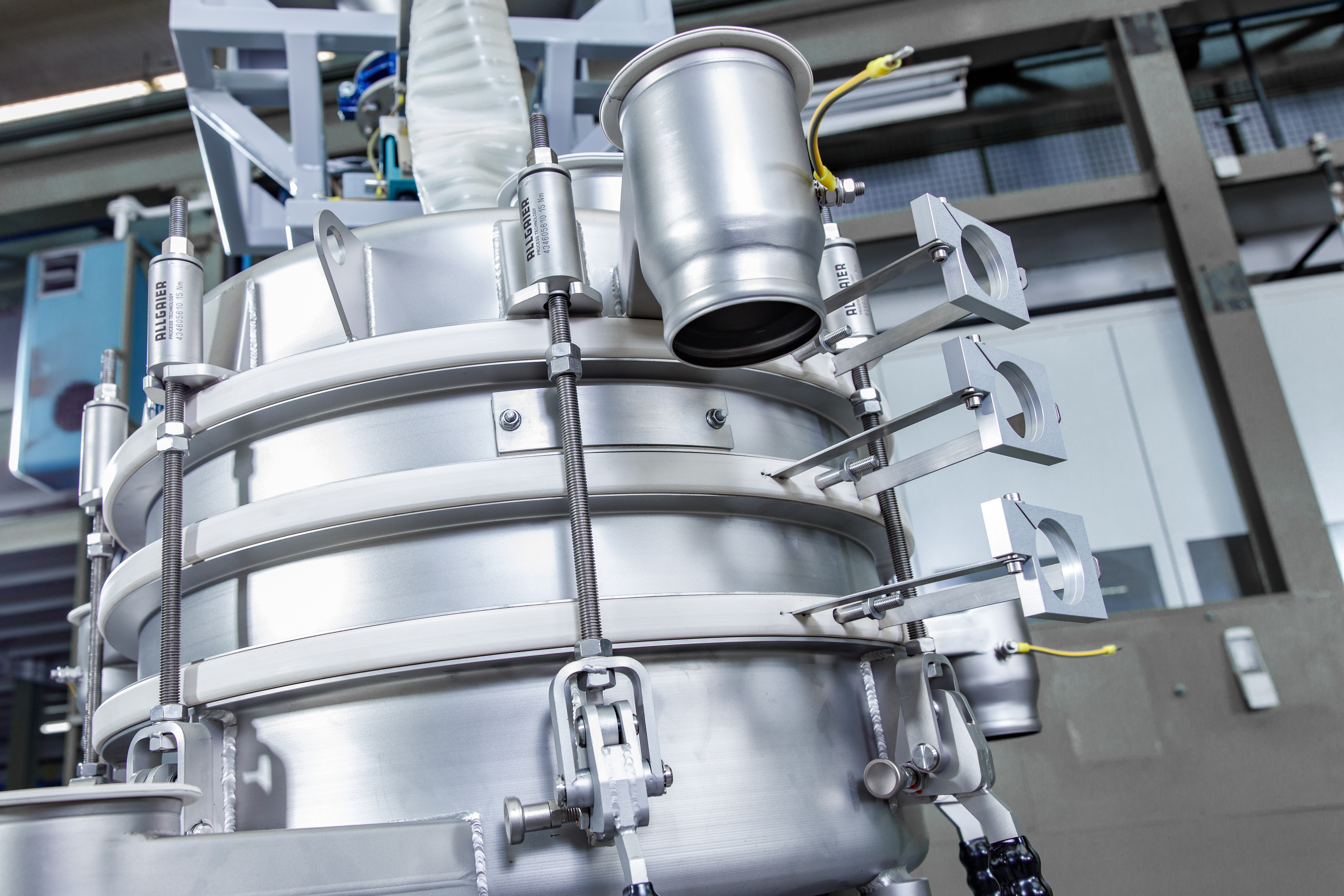 Tumbler screening machines with ultrasonic technology
A precisely coordinated combination of a modern screening machine with integrated ultrasonic technology allows for a significant improvement in the efficiency of screening processes. Thanks to the optimized integration of screening and ultrasonic technology by Allgaier, new solutions in the field of fine screening can be realized, and high-quality requirements can be achieved.
This technology offers a range of advantages, including:
Suitability for difficult-to-screen products with mesh sizes down to 20 µm.
Significantly higher throughput rates.
Improved screening efficiency, thanks to control sieving.
Enhanced product quality.
No clogging of the screen surface, enabling easy and quick sieve cleaning.
Suitability for use in the pharmaceutical and food industries.
Suitability for machines with diameters of up to 2,900 mm.
An abrasion-free cleaning system that enables contamination-free products.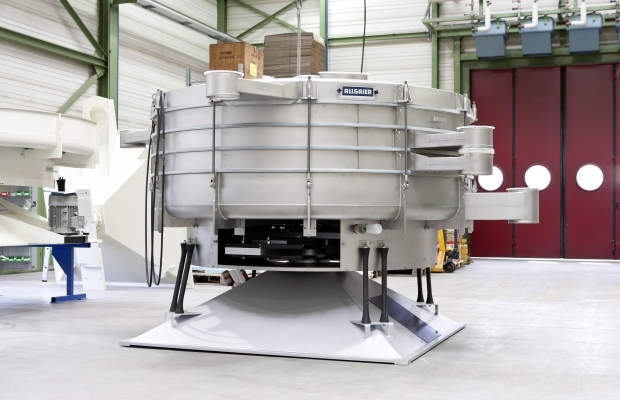 Advantages of the tumbler screening technique
The tumbler screening system enables high screening quality with a screening efficiency of up to 99%, without causing damage to sensitive products.

In comparison to vibrating screening machines, it offers higher specific screening capacity due to its large amplitude of motion.

Furthermore, the machine ensures a stable screening motion even under full load.

The tumbler motion of our screening machines is continuously adjustable to achieve optimal particle residence time on the screen. This allows for precise coordination of screening performance and quality.

The 3-dimensional screening motion can be easily recorded and documented to ensure reproducible operating data at any time, guaranteeing consistent product quality.

Thanks to our modular design, we can offer a variety of machine variants, including ATEX versions and optional dust or gas tightness.


Moreover, our screening systems are characterized by low noise, low vibration operation, and user-friendly maintenance.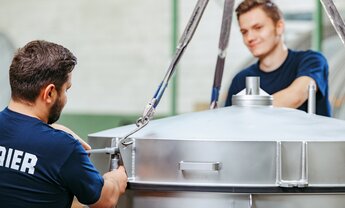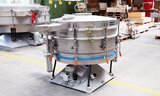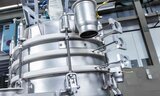 FAQ - Frequently asked questions
What is a tumbler screening machine?
A tumbler screening machine is a type of screening equipment that performs a three-dimensional tumbling motion to sieve and fractionate materials. By combining radial and tangential movements, a spiral motion of the product on the screen surface is generated, resulting in optimal particle separation and high screening efficiency at high throughput rates.
When are tumbler screening machines used?
Tumbler screening machines are used in various industries where precise separation and efficient screening of bulk materials are required. Examples include the chemical, food, pharmaceutical, plastic, and recycling industries. They are employed to classify, sort, or clean bulk materials based on their size. Additionally, they are particularly effective in screening challenging materials such as fine powders.
How large is a tumbler screening machine?
There is a wide range of tumbler screening machine variants available on the market, offered in different sizes. Most manufacturers provide a variety of models that vary in size and technical specifications. The sizes range from smaller machines with a diameter of around 600 mm to larger machines with a diameter of up to 2,900 mm. Depending on the application and required capacity, suitable sizes can be selected.
What is the difference between a tumbler screening machine and a vibrating screening machine?
These two machines differ in their screening motion. While a vibrating screening machine undergoes rapid, linear vibrations that propel the material in a specific direction, a tumbler screening machine employs a three-dimensional, eccentric motion. This motion combines radial and tangential movements, causing the material to be conveyed over the screen surface in a spiral path, allowing for a longer residence time on the screen. As a result, higher screening efficiency can be achieved, especially for difficult-to-screen materials. Additionally, the tumbler motion generates less vibration and is therefore quieter than vibrating screening.
Additional machines in this category